3 minutes reading time
(611 words)
Life Coaching for Men Video
Introduction to Life Coaching with Great Life Coach
This short video is intended to offer a flavour of my unique style of life coaching for MEN. Do take five minutes of your valuable time and get to know me a little better! In this video I discuss perspectives on life the challenges faced by Men and life coaching.
I shot this video while hiking deep in the English Countryside. I am an avid and accomplished mountain hiker. I love big nature, big rivers, big sunshine and the deep connection with all that is.
Maybe we should go on a life coaching hike together! Ask me!
Life Coaching for Men - Passion If you could. Become a man of power.
Self-Help Resources for Men
I'd love to work deeply with you. But if life is calling you to go-it-alone right now of course it goes without saying, if you need any help or reflection along the way, do give me a call for some support even if its just for an hour!
I have resonated deeply with Michael's simple unpacking of life itself. His accessible teachings can give everyman a bedrock for spiritual growth, The Untethered Soul gave us a lucid and practical guide to living an awakened life. Now, for those inspired by his books or new to his teachings, this in-depth series of original audio sessions brings you into his company, as he suffuses new illumination into the revelatory insights shared in his written works.
- Insights on the Untethered Soul discusses how the book takes you through each stage of the spiritual journey.
- Freedom from the Mind details the ways in which the mind can hijack your reality.
- The Clarity of Witness Consciousness helps you unravel the numerous constructs that create your false sense of self.
- Turning Preference into Peace invites us to get to the roots of our suffering: blockages of our energy flow.
- The Journey Within guides you on the most important voyage of your life: into the depths of your own limitless Self.
- Letting Go into Freedom and Fulfillment shares that the peace we seek is already within us—the key is to let go of the entire inner battle.
- Honoring and Respecting Reality leads us through the limitations of the personal mind and into the expansive wonder awaiting just beyond its walls.
- Taking Charge of Your Inner Growth shows how to recruit your own hidden strengths, commitment, and intention as powerful allies.
- Your Direct Path to Inner Freedom teaches how to release the pull of your personal energies and live from the deepest part of your being.
- The Power of Inner Clarity explores how to comprehend the truth of a situation and act to serve the highest good.
- The Unlimited Energy of the Self helps you free your inner energy in order to experience unconditional upliftment.
Interesting stuff!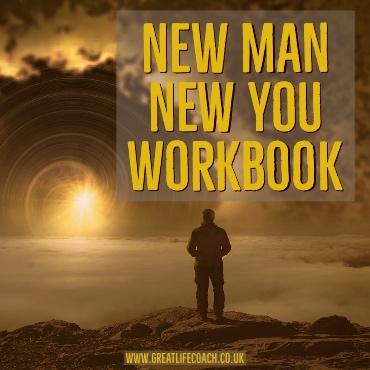 I have developed a Free Life Coaching Worksheet that will help you evaluate the opportunities for change in your life right now. It is a simple 12-page process that will help you establish where to start to get a grip. It is called 60 Minutes to the New Man and I'd love to share it with you... Sign up for my free life coach for men workbook.
Stay Informed
When you subscribe to the blog, we will send you an e-mail when there are new updates on the site so you wouldn't miss them.