Career Coaching - Deep effective support for career change
I miss my singing career very much. (Elvis Presley)
If you could...
Put Meaning back into your life and relish going to work... Would you?
Work every day with enthusiasm, passion and zest... Would you?
Find your calling and your perfect career... Would you?
Enjoy wise support in navigating career based life decisions... Would you?
What kind of a person wouldn't?
Hi, I am a very effective Career Coach. Over the next two months we could work diligently together to help you to align your Career path with yourself. Using a proven and structured process I will support you and guide you back to happiness at work. Career change is a primary focus for many of my clients. Over the past ten years I have supported thousands of people to get passionate about their work. Let me help you!
Great Life Coach Career Coaching
Are your DIY Career Change efforts going nowhere? Did the Universe give you a shove with a redundancy? Is that knowingness that you are on the wrong path, in the wrong company, climbing the wrong ladder screaming at you?
Re-Invention starts with pain.
I will work deeply with you to connect you to your Passion and Purpose, your gift to the World. One on one, utterly custom, no tests, no psychometrics, no square peg.
I take you on an intuitive journey deep inside to discover your Authentic Self, to understand the difference you wish to make, to get acquainted with what is wrong in your life situation today, and to discover your uniqueness in this world.
My bespoke one-on-one work will support you to take control of your career transition.
Are you unhappy or uncertain about your career? There are many reasons why people would approach a career coach. The most common reasons are...
You need more of something in your life?
You need less of something in your life?
You need to change your life, but for some reason you feel stuck, lost or in a fog about what to do.
Specialist Career Change Support is Right Here
The remarkable work we can do together is...
Open and Inspiring
Customised to Your Uniqueness
Discreet and Utterly Confidential
Holistic - Career, Love, Dreams
Deep and Honest
Clarity and Sense Making
Real World Pragmatic
Spiritual or Not
Full Spectrum
Specialised support for your transition
Since 2003 I have been providing expert support for people who are navigating their way through Career Changes, Challenges and Crises.
I am adept at holding a space that embraces the practicalities of every aspect of your life experience, providing pragmatism and a spiritual foundation. I am tenderly tough and proven with many 5* Google reviews.
I am an open and a razor sharp confidant who can help you rationalise a new perspective on life and map out a way forwards.
Benefits of working with Great Life Coach Career Coaching
Supporting You through your journey
Making Sense of your world
Gain Clarity to cut through complexity
Laughter and Tears from deep honest dialogue
Vulnerability and Power understood
More Authentic living
Take Responsibility and return to power
Alignment with a Happier You
Figure stuff out, find meaning, what to settle on, where to grow, what to change
Feel heard and supported on a structured journey
Re-Invent towards your yearnings for the next 10 years of your life
Build a Toolkit to deal with life's challenges - Suffer Less, Flourish More
I cant promise to fix all your problems, but I can promise that you don't have to face them alone
Free Initial Consultation
If you are navigating the challenges of a Career Change, you don't need to fight this battle alone! Test it yourself, and let me exceed your expectations.
I offer telephone based Career Change Coaching support for men and women Worldwide. If you are in the London area, we can also do face-to-face work together.
Curious? Do get in touch and we can have a free initial telephone consultation to answer you questions and establish how to proceed.
Integrate your Life Purpose into your Career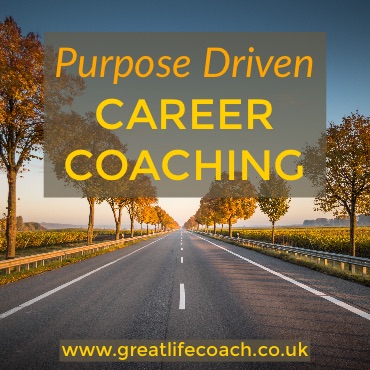 There are jobs, there are careers and there are callings! Which one do you do everyday?
We spend (invest) most of our lives at work so it goes without saying that we must choose the right career; a career vocation that is in line with our calling, signature strengths and values. This applies to doctors, lawyers, company executives, lecturers, film directors, entrepreneurs, students etc. -- there are no exceptions! Failure to get on the right-ladder will result in directionless stuckness and a multitude of ill feelings.
Just imagine! Two months from now you will be clear about the career path that is right for you. You will be ready to make changes for the better. You will be armed with a wealth of information to confidently make the changes that you ready to make. Not Lost, Not Stuck and with a clear direction.
In my work as a career coach I have noticed a trend... a career crisis is really a spiritual crisis in disguise. In the 80's everybody wanted money and status, in the 90's everybody wanted balance in their lives. The theme this decade... MEANING, people are waking up and saying to themselves; I want meaning in my life. Start to put meaning back into your life today!
I have created a process that I will guide you through to get the answers and results you are looking for.
Together we will understand who you are and what you are really about.
What is the next phase of your life about.
We will also explore and study what is possible for you in that next phase.
Using the Great Life Coach LifePaths process we will reveal the career path that is optimum for YOU. No more fog.
I do not use psychometrics and this work is not about trying to fit you in a box. It is about discovering your uniqueness and putting it to work powerfully for you.
I am passionate about helping people live authentically. We all naturally resonate and gravitate towards certain passions and interests in life. As we explore a new career path, let's first discover what it is you are passionate about. I will then guide you to be authentic in the way that you express your passion. But in our work together we may also discover an underlying unworthiness, inability or inadequacy that is holding you back. For many people, passions are covered up with unworthiness. Unworthiness holds your reservoir of passionate energy in place and doesn't let it flow. Unworthiness clogs up passion! It creates life-struggles in your efforts to pursue your passionate authenticity.
Let's return you to full worthiness, full passion and full authenticity.
Why would you choose any other way?
If you are immersed in your current career trajectory, thinking of changing career, or perhaps you can sense an enforced change heading your way via redundancy. I invite you to seize the opportunity of working with a life skills coach to confidently assert a life-purpose driven career path -- re-crafting your work to deploy your strengths and virtues everyday.
I am very good at helping you find clarity and focus in the vocational core of your life. A confident career trajectory is yours for the asking. Some examples of the careers and backgrounds of people that I have coached can be found here. Let me help you!
Purpose Driven Career Counselling
Your calling is the most satisfying and gratifying form of work because it is done for its own sake rather than for the material benefits that it brings. You can contribute to the greater good, to something larger than your self.
As a life coach I go way beyond psychometric testing and traditional career counselling; I take you on a journey deep inside you to discover your True Self. Your uniqueness in this world; it is not an analysis of which mould you fit into!
Having discovered the essence of your Self, we then build up a knowledge of who you really are, your purpose, your strengths and your values -- and what you are here to do; Your gift to the world.
We then choose work that allows you to manifest these strengths and values everyday. In some cases it may make sense to re-craft your existing work!
My coaching is fun and very rewarding - changes and corrections you make today will affect the rest of your life. Start designing your perfect future today, a future that embodies a career that is completely in tune with who you really are. Get in touch with your coach for a great life today!
The best way to be happy at work is to feel completely at home within yourself when you work -- the challenges you meet perfectly mesh with the your abilities to meet them. As a Career Coach I help already successful people navigate the challenges, changes and dreams that arise through adult life. I relish change as the most powerful tool we have to get what we want out of life. I will support you through the changes you want to make to achieve the career you desire.
Get in touch today and within a few months we will get you on a path that is perfect for YOU.
What aspect of your Career can I help you with?
Take up the challenge of designing a confident career driven future. Using a safe and supportive foundation of trust, freedom of expression and commitment, I always work to help you explore your inner being, to regain balance in your personal and working life and to align with your true values and fullest potential. Using a stimulating London-based face-to-face program customised to fit your current personal development needs, my lifecoaching focuses on your inner guidance, purpose, skills, beliefs, techniques and processes necessary to take you into a great future.
I partner with intelligent, successful people who want to excel at their passion, gifts and unique talents in a way that brings them success, happiness and balance. Otherwise, do what you always did and you will get what you always got!
Tags: career change