Overcoming Depression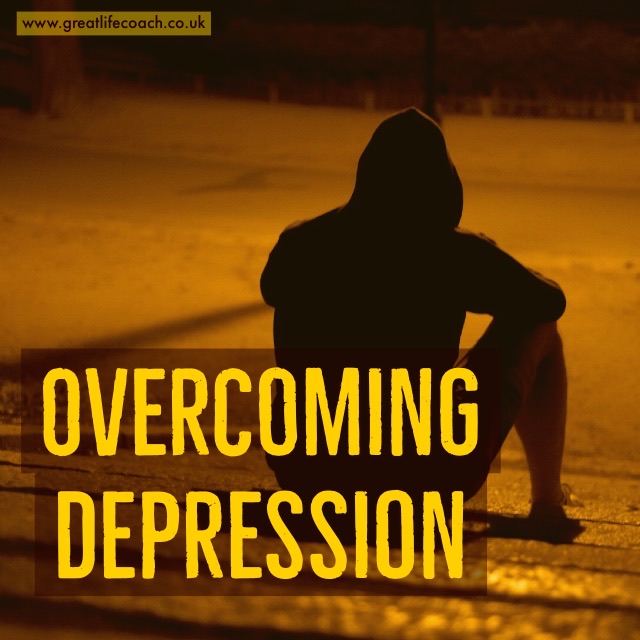 I read today that around 1 in 4 Britons will suffer from a mental health problem within a given year. There are over 22 Million people in the USA on anti-depressants. There's no wonder really given the out-of-touch-with-nature lifestyle that so many people lead. Information overwhelm, constant change, unlimited options, great wealth, instant global communication, always-on, not-good-enough, expectations, profit-centeredness. Something's gotta give. Something's outta whack.
The stress and overwhelm that so many people wallow in on a daily basis is a very modern set of phenomena. Dark feelings may arise in us that we don't know how to process. Our ostrich-mentality culture often insists to all with depressive tendencies that what they feel isn't real. The fact is that our old-fashioned distaste for emotion has to be abandoned if we are going to grasp the nature of the beast we are dealing with.
The feeling of depression is often deeper, longer and more unpleasant than the short periods of unhappiness we all have from time to time. But remember depression isn't an absolute - it's not simply a case of either you're depressed or you're not. There's a progression from feeling blue to a full clinical illness.
Over the years many of my clients have presented with symptoms of depression, or have shown up declaring that they feel depressed. The black dog comes to visit most people sooner or later. I'm not a doctor, therapist or clinician (and some forms of depression really do need a clinical intervention.) But I have noticed that many of my clients can allow their smiles to return when they successfully start to make little changes to their life situation.
If the blues are colouring your life right now, remember:
There are time-proven supports for depression like meditation, healing movement and breath, optimal nutrition. But do also consider the following guidelines for moving through and beyond the depression...
Finding self-acceptance starts when you realize that you're already enough.
Be honest with people about how you feel.
The way other people act is rarely about us.
Try to figure out where your insecurities stem from.
It's okay to not know what to say to people.
Start challenging your negative thoughts.
Make a relapse prevention plan.
Keep track of your progress.
Don't give up.
"Lee has been an incredible mentor, coach & friend to me for almost 6 months now and I have no intention of stopping our sessions. He has a deep, spiritual wisdom which he has seemingly settled into after many years of navigating various life experiences (good, bad & ugly). Lee carries an extensive toolkit containing exercises, techniques and advice which he draws upon when the tool is right for the job and the timing of its use is appropriate.



A great thing about working with Lee is his deep connection to himself - sessions don't tend to be planned and instead Lee uses his intuition to work with whatever is coming up in the moment, for me this means that I always get value out of the sessions.



One more thing - I don't think I've ever felt like there's anything I CAN'T say to Lee. Our conversations are held in a space where anything and everything is on the table. There's a deep acceptance, compassion and appreciation on both sides. It's a pleasure to connect and discuss life's big topics regularly.



I found myself in what I would probably classify as a 'Dark Night of the Soul' period in my life following some major life changes. I sought out a coach that could help guide me through an extremely challenging time in my life and I am so so grateful that I found Lee. I'm still not out of the woods entirely but I'm well on my way and Lee has been an integral part of the journey.



OK, one more thing - If you want to work with a down-to-earth coach who appreciates the complexities & difficulties of modern living, the nuances & contradictions of life that we all wrestle with and who also has a particular interest in authenticity, eastern wisdom and walking a path that is 100% YOU - Lee is your guy."

-- Google 5* Review
I know how hard it is to see the light at the end of the tunnel when you're stuck in the darkness, but I promise it's there. And more than that, I promise that just because you're struggling right now doesn't mean this will be your life forever. If you keep reaching out for help, do self-care, stay honest with yourself and your support network, and work to challenge your negative thoughts, things will get better. Not immediately, but with time, you heal and find peace. It won't be easy, but it's possible. And you don't have to do it alone.
If you are ready to move beyond pills and therapy, you may like to consider working together. Our work will be pastoral and practical. I make use of a variety of approaches when tackling depression. Sometimes our work is about taking a higher perspective, sometimes it is about acceptance, sometimes about moving towards authenticity. I hold a space to explore real honesty and an honouring of feelings.
My clients, men and women, come from all walks of life and all corners of the globe. They are productive and capable people living full-lives. They are in-tune with their growth and are always interested in strategies to be more peaceful. If you are interested in bringing more peace into your life, I can help you. Together we will evolve juicy strategies to have you feel more peaceful, transformed and alive.
Do get in touch for a confidential initial consultation to see if I can help you return to inner happiness that is your birthright.
Sending loving energy... Go well.
Tags: depression