Mindfulness Meditation Teacher - Learn how to master mindful meditate
Mindfulness Meditation and Meditation Coaching (London)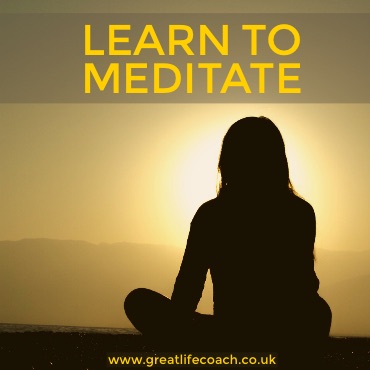 I love to meditate and inspire others to get going with a powerful practice!
I offer subtle one-to-one mindfulness meditation training, guidance and reflection for individuals. My work is deep and grounded.
Meditation is the direct experience of the mind. Observation of my mind has been part of my daily practice for twenty years now; and I can honestly say it has made this journey of being alive a far richer experience. I recommend it! I love to entwine the meditation practices into our life coaching process.
The subject of meditation often comes up when I am working with coaching clients. We sometimes develop a practice as a way of taming an overactive-worrying mind, and other times the practice is a pathway to help people reconnect with themselves and life. The usually-simple methods I teach come from rich and thorough Eastern wisdom traditions; but it isn't necessary to get deterred by their complexities and religious overtones. I have seen that meditation has many positive effects on wellbeing and outlook on life, and is generally a simple process. I generally teach Insight-Meditation or Mindfulness Meditations grounded in the Tantra tradition.
I have been cultivating ways to introduce and teach meditation as an ongoing part of our life coaching work together.
I craft a Mindfulness Meditation methodology tailor-made to the lifestyles and needs of my clients. The teaching is being received very well, and I now have plenty of clients developing and deepening their own daily practice. If you are a beginner you may find the following video useful How to meditate for beginners and this video details some tips for honing your meditation practice.
Learning to meditate is a personal journey which is undertaken slowly and over time. It starts simply, and with experience, that simplicity gets ever more subtle. Rather like learning to play the piano, it requires that you make available quality time, and apply the right effort. Sometimes it is a slog, and other times there are breakthroughs. And like the piano, every stage is rich with insight and new understandings. Fundamentally, Mindfulness Meditation nurtures your ability to savour life, allowing you to "taste your life" wisely. It is a practice of poised alertness, and not a removed trance.
As we settle into mediation, we are freed from the exhausting effects of mental chatter; doesn't that sound nice? The mind becomes concentrated and focussed. Afterwards we are calm and refreshed. It took me years to get to the point where my practice was not full of resistance; I could sit for 20mins and watch a million thoughts punching and rebelling at my very sitting there! It was not fun. But then... the elixir arrived, and now a day without a sitting is like a day without a hot-shower and a nourishing breakfast.
My Mindfulness Meditation coaching approach has several levels to it.
At first we start with the basics of posture and sitting comfortably, slowly developing the skills of self-awareness and engaging with stillness.
As we move deeper we start to cultivate mindfulness and concentration. At which point we will have created a bedrock for movement towards tranquillity.
In more advanced levels we are then able to " play" around in stillness, developing deep insight into ourselves and the nature of existence. It is all a very personal experiment.
The joy is that at any or every level we will always bring something peaceful back to the world; to share with others. A peaceful centered Mum and an aware un-agitated boss undoubtedly makes the world a better place; nobody needs to be machine-gunned with reactive drama that many will see playing out on a daily basis at home, work or on the bus. Mediation helps you get there.

---

Try this in a minute...
Sit comfortable, wherever you are right now and allow your eyes to travel around your space.
Thoughts are not needed here. Don't think about whatever you see. Just look. Take it all in, the shapes, the light, the shadows, the colours, movement, stillness.
Notice the relationships of whatever you are looking at. Look all around, slowly. No labels. No judgements. Just observation.
And any thoughts that come along. Let them go.
Did you notice anything? Really?
---
As an aside, few people enjoy the company of individuals whose attitudes are persistently negative. Do you know any of those? Perhaps even you? Yet many of us tolerate the critical chatter that can originate within our own minds. Since we are so used to the stream of self-limiting, critical consciousness that winds its way through our thoughts, we are often unaware of the impact these musings have on our lives. These musings become the script from which the movie that is our life is produced. It is only when we become aware of the power of such thoughts that we can divest ourselves of them.
Using Mindfulness Meditation and paying careful attention to thinking patterns, you may be surprised at the negativity found there. But when we take notice of involuntary thoughts in a nonjudgmental way, we initiate a healing process that will eventually allow us to replace intimidating and upsetting self-talk with positive, empowering thoughts. You become a "nice" person and everybody loves you because you are nice; or leaves you because they don't want to hang out with nice people! (PS by nice I mean a person who lives with a compassionate loving heart, as opposed to one who lives from closed-heartedness fear)
I am also a fan, practitioner and teacher of more esoteric meditation, including Insight meditation, TM, Tantra-Mantra, Yoga, Chakra meditations and Tantra meditation. You can learn more about developing your own Chakra meditation practice here.
As we get to know ourselves, we can take responsibility for ourselves and our process of change; if we don't we are largely at the mercy of whatever life brings. The Universe happens to us. Mindfulness Meditation is a delicious way to enhance our lives and wellbeing. As a teacher, I meditate such that I have more to give my clients, and as a Mindfulness Meditation teacher I can help my clients do the same with people that they touch in their own lives. It forms a cornerstone of my teachings that take people towards Peace, Passion and Purpose.
Take up the challenge of confident life meaning discovery. Using a safe and supportive foundation of trust, freedom of expression and commitment, I always work to help you explore your inner being, to regain balance in your personal and working life and to align with your life meaning, true values and fullest potential. Using a stimulating face-to-face, phone support and email program customised to fit your current personal development needs, my coaching focuses on your inner guidance, purpose, skills, beliefs, techniques and processes necessary to take you into a great future. If you have more questions about life coaching - Click Here. or Call 0845 402 1850
I partner with intelligent, successful people who want to excel at their passion, gifts and unique talents in a way that brings them success, happiness and balance. Otherwise, do what you always did and you will get what you always got!
Self Help Coaching Resources for Mindfulness Meditation
I'd love to work deeply with you. But if life is calling you to go-it-alone right now, then you may find the following resources useful. And of course it goes without saying, if you need any help, mentoring or reflection along the way, do give me a call even if its just for an hour!
The MBSR Online Course has a vast body of research behind it - and this program is the only official online training that teaches the method pioneered by Dr. Jon Kabat-Zinn at the Center for Mindfulness in Medicine, Health Care, and Society at the University of Massachusetts.
The MBSR Online Course is presented by two expert teachers from the Center for Mindfulness: Dr. Saki Santorelli and senior instructor Florence Meleo-Meyer. The course allows you to experience the proven eight-week curriculum for learning to use your innate resources and abilities to respond more effectively to stress, pain, and illness.
Mindfulness is more than a treatment for health issues. What we find especially encouraging about the spread of mindfulness is that more and more people are discovering how this practice opens the door for a richer, more rewarding experience of life. It can also be a powerful foundation for spiritual exploration.
Mindfulness is a way of learning to relate directly to whatever is happening in your life that starts with paying attention in the present moment in an open, non-judgmental way.
As more than 20,000 people who have taken the The MBSR Online Course have learned, using mindfulness techniques gives you effective new tools for handling emotional stress, chronic pain, and health conditions - as well as elevating your overall capacity for resilience, balance, and awareness.
Some of the clinically proven benefits of MBSR are:
Stress reduction—at work or at home, especially for anxiety over health issues, aging, and uncertainty about the future
Managing symptoms and reducing suffering from medical conditions such as chronic pain, high blood pressure, heart disease, persistent headaches, and more
Enhancing our ability to overcome psychological distress such as panic attacks, depression, fatigue, and insomnia
Support for any preventive care, exercise, diet, and wellness plan
The fruits of mindfulness practice extend far beyond what can be tested in a clinic or hospital. By intentionally orienting our lives towards the present moment, we often experience a greater delight in what the world is offering us right now instead of deferring our happiness for some time in the future. We become more attentive to our relationships, our day-to-day decisions, and the many ways we are supported and embraced by life.
If you're thinking of beginning your own adventure in mindfulness, then there's no better time to begin. Click Here Now to Join this excellent Self Help MeditationCourse.
~
Do you struggle with self-judgment? Does the voice of your inner critic speak loudly of your 'flaws'?

You're not alone. Even people who've had years of practice with meditation, therapy, and self-improvement still struggle with the most important relationship we have—our relationship with ourselves.

Self-Acceptance Summit, How to Overcome Self-Judgement and Live a Life of Bravery, Compassion, and Authenticity.
How often do you hear inner voices saying you're not good enough, not tough enough, not fit enough? How much time do you spend dwelling on regret, shame, and things you wish you could do over?
Why do we think it's a good thing to be "our own worst critic"?
Imagine if you could take all the energy you spend on self-criticism and use it in a different way. What would it be like to become your own best advocate and greatest supporter in the world?
Whether you seek health and happiness in your own life or are hoping to be of greater service in the world, your relationship with yourself is always the starting point.
Accepting ourselves—especially those parts we find most shameful or frightening—has a positive impact on nearly every experience in our lives.
~
Food and Nutrition is often explored in the early statges of a coaching relationship. I urge you to become the best version of yourself while we are working together. If you are time-poor right now then this new service from Balnce may be of interest.
Balance meals are the newcomers in the fast growing meal prep delivery service, looking to inspire the meal prep market and take over in the next 12 months.
Featured in Womens health online - best meal delivery companies in the UK and GymShark's Blog. Balance meals lets you choose a meal plan based on a target daily calorie range, prepared, cooked and delivered direct to your door.
How it works
Choose your meal plan and start date.
Select your daily meals from our fresh menu, breakfast, lunch, dinner and snacks included!
Meal plans are delivered nationwide to your door, including meals for the following 3 days.
Full macro, nutritional and ingredents breakdown visible on each meal, including scannable barcode linked to MyFitnessPal to easily track daily targets - also includes cooking/re-heating instructions. Simply unpack and enjoy, spend the time saved reaching your goals.
Tags: spirituality, meditation