Couples Coaching - Making your relationship WOW!
If you could...
Commit to making your relationship all it can be... Would you?
Commit to supporting your own growth within your relationship... Would you?
Discover what is possible with your relationship... Would you?
Enjoy ultimate support to empower your relationship... Would you?
What kind of a person wouldn't?
What is possible in your relationship?
Love one another but make not a bond of love:
Let it rather be a moving sea between the shores of your souls.
Fill each other's cup but drink not from one cup.
Give one another of your bread but eat not from the same loaf.
Sing and dance together and be joyous, but let each one of you be alone,
Even as the strings of a lute are alone though they quiver with the same music.
(Gibran)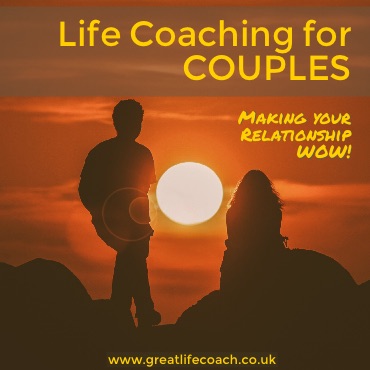 How can a couple really eat of your bread but not from the same loaf? I have seen that life coaching can powerfully evolve a committed couple towards that special way of being. Over the past seventeen years I have worked with hundreds of clients many of whom are in a significant relationship, yet so often the other partner can feel excluded from the process. A wonderful opportunity exists when two people harmonise their personal growth within the supportive bounds of a loving relationship. Life coaching can reveal individual paths and help couples harmonise those paths to powerfully work for the relationship.
Couples coaching follows a similar process to individual coaching. The early phases of our coaching work are usually centred around AWARENESS. Awareness of inner feelings, awareness of relationship dynamics. With deep support, the client becomes aware of their current life situation and their relationship to that situation. Working together we often reveal unique wisdom and guidance from the heart and we arrive at an honest realisation of what is working and what needs to be changed.
Coaching is only useful if real change takes place, right? So we then move onto the all important ACTION phase of our work where we evolve a plan of action, and put in place a clear progression of goals and steps that will make the onwards journey a reality. Powerful stuff when you are so supported. When I'm only working with one half of the relationship it is important for the client (to the extent that it makes sense for them) to take into account the needs of their partner, adjusting their plans accordingly.
His new endeavor hadn't been going so well, and his ability to be the breadwinner was in rapid decline. He'd been miserable about this, felt useless, was losing himself emotionally and letting himself go physically. And now he wanted out of our marriage; to be done with our family."
When I work with couples we undertake a similar coaching process that deeply considers the needs of each individual AND the needs of the relationship. The result is a very unique opportunity to honestly embrace individual needs within the powerful structure of a supportive loving relationship. The most powerful relationships are those that enable individual growth journeys with full understanding and support of each partner.... Allowing each string to be unique and alone, yet quivering with the same music of a powerful relationship. Harmonised.
How are we going to have peace on the planet when we can't have peace between two people who are supposed to be in love?
What my Couples Coaching Offer You
If you don't have the relationship of your dreams, or you feel that your relationship is ripe for becoming evolutionarily sweet, things can change — and you can do something about it. The only question is what to do. That's where couples coaching can help. Couples coaching offers new perspectives and positive options. Coaching provides you with new strategies and tools for overcoming challenges.
The process is simple, the first few sessions are all together, we then go off onto honest individual journeys, and then we come back together to empower the confluence of these individual journeys. The result from this held, supported space is an opportunity to co-create very beautiful, powerful loving relationships. Couples coaching is not intended to replace relationship counselling or therapy, and is best applied in healthy alive relationships. The couple will always define clear goals for the work to be undertaken, allowing a diverse range of changes to be supported.
I also offer life coaching specifically for men or women separately.
If you are in a relationship and are interested in couples coaching, Get in Touch, I will be happy to answers your questions and explore how we might proceed.

Self-Help Resources for Couples
I'd love to work deeply with both of you. I have worked with many people since 2003 and I've built an understanding of core life-secrets that can allow you to develop a trajectory towards more Passion, more Connection and more Peace in your relationships. But if life is calling you both to go DIY with your relationship work, then you may find the following lower-investment resources useful. And of course it goes without saying, if you need any help or reflection along the way, do give me a call even if its just for an hour!
I love this book. It comprises of page after page of simple insights that can be used to debug your relationship. In If It Hurts, It Isn't Love, Spezzano finds truth in simple insights: What I think I need is what I am called to give.
Depression is the fear that something new will leave me.
When someone gets angry at me, there is a lesson for me to learn. Jealousy is a birthing place.
These principles show how to look afresh at one's most important relationships, in a way that heals pain and brings love and forgiveness. After each principle, the author gives brief exercises that nudge readers further, prompting them to absorb the insights even more deeply.
~
In my life coaching work we often take a good look at Shadow. Your shadow WILL affect the way you love and receive love. It is the parts of ourselves that we've buried, the parts of ourselves that are not seen, the blind spots. Yet those parts of ourselves still have a big influence on our relationship. If you've never taken a good look at your own shadow before, NOW is a great time to do it! You may like to take a good look at this self-help course. The Shadow Course is an eight–week transformational learning experience with two of my favourite life-skills teachers. This is a great course to do as a couple. It will open countless opportunities for self growth within the relationship.
Alarmed by the unconsciousness in our world today, Caroline and Andrew joined forces to create this in-depth journey. Think of it as a guide to uncovering what you don't know about yourself so you can come into alignment with your true power and purpose.

Of course, it's not easy to see what we don't want to see about ourselves. There is a reason we turn away from certain truths and that our greatest inner treasures often remain hidden. The Shadow Course offers a journey of self-confrontation, one that requires courage, truth-telling, and a willingness to grow. This is "a holy adventure."
My life coaching work encourages you to walk an Authentic path in life. You can only be authentic if you fully accept who you are. This online resource presents insights and guidances on ways you can fully accept yourself.
~
You can fix a relationship faster if you focus on increasing passion and connection in the relationship BEFORE focussing on the problems in the relationship. Big problems in a relationship will alomost fix themselves if there's enough passion in the relationship. But even the smallest promblems will seem like mountains if there's NO PASSION. A small emotionally charged date will go much further toward healing a relationship than having a 50 minute conversation with a therapist!
The Save the Marriage System - Each year in America alone, nearly 1 million marriages end in divorce. (Statistics are stories with the tears washed off.) The question is how many of those marriages could be saved. Unfortunately, that is an invisible number. Even if your marriage stays together, it is hard to find in the statistics. So many couple perpetuate relationshiop for the sake of it. The opportunuity is to perpetuate LOVE! Can your marriage be saved? This course highlights some relationship fundamentals...
1) Quit the blame game. Stop blaming your spouse and stop blaming yourself. This is the first step because marriages get frozen into a pattern of blame that immobilizes any prospect of progress. Instead, the momentum gets dragged down and down. Blame is our way of avoiding seeing ourselves clearly. It is much easier to point the finger somewhere and say "It's their fault." But in marriage, you can just as easily turn that pointing finger on yourself and place the blame there, saying "it's all my fault." Unfortunately, blame feels good in the short-term, but in the long-term, it prevents any shift or change. So, even if you can make a long list of why you or your spouse should be blamed, forget it. Even if that list is factual, it will not help you put your marriage back together. Blame is the fuel of divorces.
2) Take responsibility. Decide you can do something. Change always begins with one person who wants to see a change. Understand that taking responsibility is not the same as taking the blame (see above). Instead, blame is saying "regardless of who is at fault, there are some things I can do differently, and I am going to do them." What buttons do you allow your spouse to push? What buttons do you push with your spouse? Decide not to allow those buttons to be pushed and stop pushing the buttons. What amazes me in my coaching is that everyone knows what they should be doing or not doing. But it is difficult to move in that direction. Don't be caught in that. Decide that you will take action. The difference between blame and responsibility is this: if I am in a burning building, I can stand around trying to figure out who started the blaze, why it has spread so quickly, and who I am going to sue when it is over (blame), or I can get myself and anyone else I can out of that building (taking responsibility). When a marriage is in trouble, the house is on fire. How will you take action to save the marriage?
3) Get support from experts. If others have been helped, you can be, too. Experts with a great deal more perspective and experience can be a real help in these situations. Do your research and divide the useless from the useful, then take advantage of the useful. Don't assume that your situation is so different from every other situation. I can tell you that after 20-some years of providing coaching, not too much new comes through my doors. Don't get me wrong; the story changes, but the dynamics are the same.
4) Take action. Today. Love is a verb. Take action! More damage is done by doing nothing by taking a misstep. It is too easy to get paralyzed by the situation. Therapists often talk about "analysis paralysis." This occurs when people get so caught up in their churning thoughts and attempts to "figure things out" that they never take action. It is not enough to simply understand what is causing the problem. You must then act! On a daily basis, I find people coming to my practice with the belief that if they can just understand their problem, it will resolve itself. That simply does not happen. Resolution of the situation takes action.
Will your marriage be saved? Are you ready to take action? Grab the best-selling resource on the internet for saving marriages: Save the Marriage, Even If Only You Want It! The Save the Marriage System
~
1000 Questions for Couples - One of the biggest reason marriages end in divorce is because couples fail to ask the big questions before they walk down the aisle.
If couples simply spent some time asking each other the questions that really matter, they'd greatly increase their chances of staying together. The great thing about a "question book" is that it makes it easier to ask those difficult questions and encourages an environment to address them. Webb has put together the most comprehensive collection of questions, covering every single topic you'd ever want to know about before tying the knot or debugging your relationship.
It includes tough subjects like money, children & child rearing, career, past and present relationships, religion, morals, convictions & beliefs, personality and sex.
This book is for everyone. NOT just couples who are thinking of getting married but also couples who just want to feel closer together, or people dating, who just want more things to talk about.

~
To Love and Be Loved —a life-changing program about what it means to be alive and in love.
These lovely people have poured all of the wisdom, compassion, and courage they gained from their work with the suffering and grief-stricken into the mystery of their own relationship. The result is a beautiful, unexpected unfolding, a teaching that transcends the anguish of existence to show us the way to God—through the darkest nights of our most intimate relationships.
In the rich and forbidding depths of our personal pain, the Levines teach, lies the essence of intimacy, not only with one another, but with God.
This is why true commitment requires us to "swim across the reservoir of each other's grief." Stephen and Ondrea lead you beyond psychological explanations and show how couples together can immerse themselves in the "ocean of compassion"—where you will discover how to face and overcome the fear that closes your heart, and replace it with mercy: the key to creativity, freedom, and love.
Through honest, real-life sharing, To Love and Be Loved teaches you how to discover the greatest gift you can ever have: forgiveness—for yourself and your lover.
I'd love to work deeply with both of you. I have worked with many people since 2003 and I've built an understanding of core life-secrets that can allow you to develop a trajectory towards more Passion, more Connection and more Peace in your relationships. Give me a call!
~
Discover the Mystical Pairings Ready to Empower Your Life
Each one of us comes into the world as a custodian of soul-level partnerships—mystical agreements we enter into for the fulfillment of our divine destinies. Join Myss and Harvey on The Soulmate Contract to discover and honor the bonds you have made to support your spiritual growth and the offering of your unique gifts. In fourteen provocative sessions, they present a sweeping vision of the soulmate contract in its many manifestations, revealing why this phenomenon has taken on unprecedented importance today—and what you can do about it.
Addressing Our Longing for Divine Intimacy
At the heart of the soulmate contract burns the universal desire for connection with that which is sacred and true. When we choose consciously to embark upon this journey, the companions to our soul will begin to reveal themselves and share the critical wisdom they hold for us. From soulmate contracts with human friends (or foes) to contracts with angels, realized beings, the natural world, and more, Myss and Harvey unveil the surprising pairings that may be waiting to spark your spiritual development and personal evolution.
"When it comes to soulmates, rest assured, we find each other when the time is right," teaches Caroline Myss. The Soulmate Contract offers you more than seven hours of perception-expanding insights and empowering guidance for the path ahead. Friends this could be the most important 7 hours thatyopu may invest witgh your lover, your partner, your chosen one.
Resources for the Good Times together
Ohhhh Dorset! I have spent so many beautiful hours walking in your countryside. Perhaps now is the time to arrange a recharge getaway. Sometimes plonking yourself into a new environment, surrounded by people from all walks of life is a great way to start your inner journey.
Take your journals, do the 60-Minutes-to-a-New-You exercise as individuals and go on an adventure together in Dorset!
~
I love to savour a finely crafted bottle of wine. You may like to convivially enjoy a some wine (while in Dorset!). Take a look at this fine-wine merchant.
Vintage Wine and Port is the UK's leading internet wine gift merchant. We are proud to offer the largest range of vintage and anniversary wines in the UK. Many of the products in these years are exclusive to Vintage Wine and Port Ltd and do not appear anywhere else. In addition, the company stocks a wide variety of not only vintage wines but also Cognac, Port and Champagne. These top class wines make unique and thoughtful gifts for birthdays, anniversaries, corporate gifts and any other special occasion. Our wine gifts can be supplied in beautiful boxes and delivered next working day. Specialising in gifts for anniversaries (e.g. 50th Birthday),
Well-Being - Look after your Bodies
Health and well-being is often explored in a coaching relationship. When clients are readying themselves to make tangible changes in their lives, I like to encourage people to move towards the best version of themselves (why wouldnt you?). If you are on a DIY personal development program, improving your wellbeing is a pre-requisite.
Vitabiotics has manufactured innovative health care products for over 30 years. A British company committed to human health and research. Vitabiotics has created a unique portfolio of products at the forefront of scientific developments in key sectors, including nutrition and women's health. Vitabiotics manufacture some of the best known health products from the high street, including Wellman, Jointace, and immuneace.
~
You both need one of these...
DATE NIGHT IDEA! If you are food lovers who also love a deal, check this out...
The Gourmet society was developed and founded in the Midlands back in 2003.
Our loyality card can be used in over 6,500 restaurants across the UK, and we are proud to say that gourmet society is one of the UK best loved diners club cards. A gourmet society membership gives you up to 50% OFF food or 25% OFF the total bill - including drinks at thousands of participating restaurants.
What's more, your gourmet society card can also be used to obtain up to 40% off cinema tickets, discounts on days out & afternoon tea, plus much more! If you're a food lover who also loves saving money then this deal is a must!
x
Tags: relationships, women