Happy Campers....
"I contacted Lee six months ago as I was about to make a big choice to leave my job and change my life. I wanted help from someone who was not invested in my life in any way, and thus could objectively support and challenge me as I powered through that change. I hadn't expected to enjoy the process quite so much, or to get from Lee so much more than I'd bargained for. Do not be fooled into thinking that coaching with Lee will simply examine the practical mechanics of your life. He has got me to deeply scrutinise the how, the what, and the why of who I am with searing yet playful courage and honesty. With lightness, a sprinkling of humour, infectious enthusiasm, and beautiful spirituality, Lee creates a clear, quiet space that accepts and queries what you will unpack together. His incisiveness has often left me gasping/laughing at the eye-opening revelations about myself. I am learning to become who I am and fully inhabit an amazing life for myself, and I am deeply grateful & happy that I chose to invest in this work." Consultant & Entreprenuer, Bristol
"Thank you for the wonderful session today. I really feel such important shifts in my life, your guidance and support have been phenomenal." Unhappy wife, London
"Lee is a perceptive and non-judgemental listener with the ability to understand quickly and easily the core issues that need to be addressed. His techniques enable one to really look inside oneself and remove blockers that prevent progress. Powerful stuff!" Solicitor, Finchley
"My thankyou was heartfelt Lee. Our work together has helped me to think differently and get me through a very difficult period in my life. Thank you. You have a special gift. Speak soon." Food Entrepreneur, Hertford
"When I first met with lee I did not really know what to expect. I had lots of questions about life in general and was struggling with some issues. After several sessions I now feel more clarity and focus. The work is not done yet but I look forward to our sessions together with excitement. Lee is a good listener and will choose his replys to questions wisely helping you to gain another perspective. I would defiantly recommend to anyone who has the courage to look for more from life. Thanks lee." Electrician, North London
"I knew immediately that I had found someone with a depth of wisdom, warmth and compassion who would not hesitate to put the challenging questions but who would also be there to encourage and support me. I am now able to see the path ahead with much greater clarity and I KNOW it's the right one!" Private School Head Teacher, London Docklands
"Coaching helps you learn about yourself and feel the better for it, Lee is highly professional and always puts your best interests first." Business Analyst, Notting Hill
"I am so glad I am doing this. I am so glad I am doing this with you. I am so proud of myself that I am taking action." Global IT Manager, Melbourne, Australia
"So Lee, I say a big thank you for our time together. I really have enjoyed it and you have given me plenty to think about over the past few months. In many ways I believe you helped steer me towards realising what it is that I am meant to be doing. You're an incrediby interesting person and I have learnt a lot from your outlook - it has been refreshing to say the least!" Lawyer, Moorgate
"I am enormously grateful for the way in which you have helped me to break through some of the blockages in my life and for the sound advice you have provided through a challenging yet exciting period. I also hope to see you at the opening of my bar next year! " Investment Banker, City
"Thanks for your great support! It is helpful and skilful. Look forward - as ever - to next meeting." Health services entrepreneur, East London
"Thank you for all your help and support over the last few months it has been great to work with you" NHS Trust Senior Executive, Hertfordshire
"The most valuable thing you have given me is perspective - a realisation that wellbeing comprises simultaneously satisfying a number of needs, and there is really no point over-focussing. Trite of course, and I knew that already, but you have really deepened my understanding of this truth. But the best thing of all: the belief that anything is possible. We are limited only by our own minds. Fantastic!" Senior Lawfirm Partner, Westminster
"'I found Lee a joy to work with, gently leading you down a fascinating path of self-discovery towards an answer or solution you were looking for, but may not have found on your own. I can recommend him highly." Hedge Fund Manager, Chelsea
"I think I was very fortunate to try your web-site first when I was looking for a life coach. I have found your guidance to be objective and uncomplicated, and you have always provided me with much needed focus. You look as though you have been eating light bulbs!" IT Professional, London Docklands
"As at now, about six months after engaging in this coaching process, I feel good, and that I have made amazing progress in discovering/digging out who I am. The validation I get out of work is being replaced by the joy of honouring my values – I get more and more fulfilled by the joy of being a loving and caring, person." VP Marketing and Development, North London
"I got some quality time to relax and think about everything... I'm still really excited about all the work we did last year." Technology Entrepreneur, Islington
"Working with Lee helped me focus where I want to go next in my life. The programme is well structured and allows achieving goals within the time frame. Lee is engaging and obviously enjoys what he is doing. Great stuff!" Oncology Consultant, Muswell Hill
"I contacted Lee when I realised the changes I needed in my life and myself were too daunting to manage on my own. Lee helped me through a journey of self discovery. I felt empowered all the way in the knowledge that Lee wasn't judging me or finding answers for me. I have resurfaced 'the real me' that had been hidden for years and am facing the new year full of ambition and determination." Management Consultant, St. Albans
"I felt very confused about which direction to take in life. Lee didn't tell me what the right answer was. What he did was to teach me the tools to realise what the possibilities were for me and then focus on the ones which really suited me. Thanks" Dental Surgeon, Farringdon
"When I first got in touch with you I was just looking for some help in getting promoted and making the best of a career I wasn't really happy with. You've helped me understand what it is I truly value in life, to rediscover my creativity and to start to believe that, instead of making the best of a joyless career, I can change direction and realise my dreams. It's been brilliant working with you". Partner Big 5 Consultancy, City of London
... and so on...
If you are looking for a reflective way to spend a sunny morning this Summer then why don't you give my Life Walk Process a try. This is a process I developed ten years ago to help coaching clients take stock of their unfolding life-journey.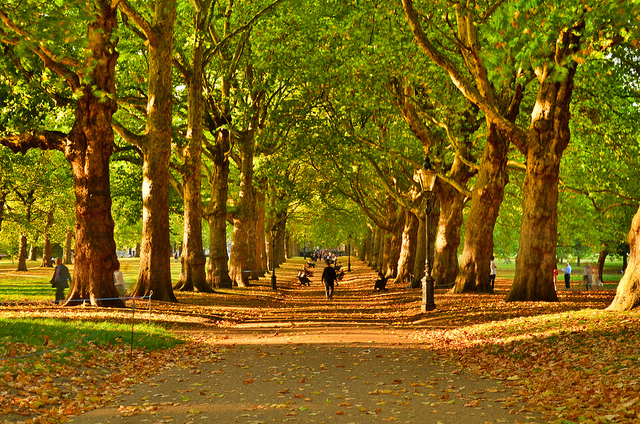 During the warmer months, I often hold my coaching sessions outdoors in Nature or in London's great parks. Many parks have gorgeous avenues of trees. These avenues prompted me to develop the Life Walk process. I sometimes facilitate this process with clients, but it can be a revealing process to do by yourself.
So, one sunny day, get yourself down to the local park (Battersea, Hyde, Green and St James are all great!), and see what you can learn about yourself.
The Life Walk Process
This simple exercise creates a sense of perspective, journey and progress through your life. Be playful and take a friend along if you'd like.
Find a park with an avenue of trees in a row. Count the trees and take note of how many there are. Use each tree to represent the passing of 7 years. When I use the splendid avenue of London Plane trees in Battersea Park, each tree represents 7 years.
Go to the first tree, this is the time that you were born. Take some quality time there to reflect on the circumstances of what you know about your birth, feeling into your relationships with your parents and life at that time. Feel into being a new-born version of yourself. Feel feelings, take perspectives, compassionately reflect, take some notes if you like.
Move onto the next tree, you are now 7 years old. Take some quality time there to reflect on the circumstances of what you know about being a 7yo version of yourself. Feeling into your relationships with parents and family and life at that time. Feel into being a 7yo version of yourself. Feel feelings, take perspectives, compassionately reflect, take some notes if you like.
Move onto the next tree, you are now 14 years old. Take some quality time there to reflect on the events and circumstances of what you know about being a 14yo version of yourself. Reflect on events. Feel into your relationships with parents, family and friends at that time. Feel feelings, take perspectives, compassionately reflect, take some notes if you like.
Move onto the next tree and add another 7years. Continue with this process until you reach the tree that represents your current age. When you reach that point, look back down the avenue of trees. How do you feel about your life journey so far? How have you loved and loved yourself? Make notes.
Now turn to look forwards, into the future. Reflect on what you want for yourself into the future. What do you want more of? What do you want less of?
Start to walk into the future, one tree, seven years at a time. At each tree, reflect on what life might be like at that age. Look back, take notes. Face towards the future and reflect on what you could change today that would make your future journey even more passionate, purposeful, or peaceful?
Keep going into your 70's 80's and beyond! How long might you like to live?
When you have completed the process, go enjoy an ice-cream.
I hope you enjoy this exercise and find it valuable. At the very least, enjoy your walk in the park! When I facilitate the process, there are loads of additional subtleties that we can explore. If you'd like me to facilitate it for you, do Get in Touch!
Reflections
I have always been fascinated by the life-perspectives that this process generates for people. At its core, it reveals to us how short life's journey really is. It teaches us to make the most of every day, rather than letting life happen to us.
Sometimes there is value in exploring 7-Year cycles with a client. If the Life Walk Process intrigues you, see if you can spot your life's 7-year cycles. Which very generally might look something like this…
14-28 Outward observing
21-28 Inward observing
28-35 Reshaping based on observations
28-42 Reforming inside and outside
42-56 Being a time of expressive outward being
Life Coaching is about supporting people through change. There's a good chance that this process might prompt you to make changes. But as is so often the case, there are brave people, and then there's you! Maybe the only bravery that is needed is to ask for some support! Rather than coercing and bludgeoning yourself into making a change, I can hold a coaching space for you that sponsors change from a deeper place.
Together we can explore the philosophies of living powerfully as a human being. Knowing the higher realm and deeper truths, knowing the beauty of life, and knowing the fulfilment of growth. Our work together can transcend whatever situation you find yourself in, wherever you started from. Often, when there is no mystical element to life, no elevated order, no magical discovery, we feel lost. What if intelligence were everywhere, not just in our heads. If you are in tune with the truth, then the time to change will come at the right time.
If you are going to be an authentic individual... How do you do it? How do you get confidence to do it? How can you change your world and therefore, the World? I can help, do give me a call.
My clients come from all walks of life and all corners of the globe. They are productive and capable people living full-lives. They are in-tune with their growth and are always interested in strategies to be more peaceful. If you are interested in bringing more peace into your life, I can help you. Together we will evolve juicy strategies to have you feel more peaceful, transformed, and alive.
Do get in touch for a confidential initial consultation to see if I can help you return to inner happiness that is your birth right.
Details

Category: News
If you have a few minutes this Spring morning, you may like to ponder what it'd be like to invest deeply in yourself. You spend money on your car when it gets creaky, your teeth when they get achy and your bodily health when your wellbeing is in jeopardy. How about investing in your happiness muscle?

When was the last time you invested in yourself? I'm not talking about buying something, whether it be a yoga class, a workshop or even a nice new outfit. I'm talking about taking some quality time just to be with yourself, to feel into the feelings and emotions in your body, to listen to what's being whispered in your heart and in your head.

Invest deeply in an encounter with yourself! May you have a day that is filled with Joy! But, if you take the time to listen deeply to yourself maybe you'd find some crappy feelings. Perhaps you are saying or doing things you totally don't want to do, resulting in yucky feelings? What does a depression, a fear, a stress, or a loneliness tell you about your world? How do they inform an opportunity for change? Crappy feelings are a gift that offer you the possibilities for change.

I invite you to join me in taking some quality time to reconnect with yourself. To understand how you can offer the best of yourself to the world? Let me show you how to bring curiosity and inquisitiveness to yourself, your life and your ways of being. Our life coaching work is about honouring that part of you that wishes to refine you. To go deeper into that art of living your life masterfully. Perhaps this is a good juncture of your own life journey to invest deeply in you!
Together, let's clarify who you are and what you're about. Let's determine how you can step deeper into you, not just for yourself but as an offering to others. Let me show you how to set up a wave of good-change through your friends, family and work colleagues. Become a beacon in your community.

I believe that every human has a unique talent or gift to offer. That gift is aligned with humanity's evolutionary destiny. Allow me to help you to become grounded in your own authenticity, so that you can walk an authentic path. Empower yourself to take care of yourself in the best way possible.

Take a moment to reflect on these special questions right now…

How can I offer the best of myself?
What is my purpose?
What are my unique gifts and talents?
How am I offering them to people and the Earth?

Did you do it? Can you answer them? I can help you find those answers.

The heart requires and asks always that we grow. So many peeps feel weighted, feel overwhelmed, feel stuck. How can we change our shape to feel lighter in life? A light life is a joyous one.

Give me a call today, let me help you spark a new vision of yourself. Create rather than consume and make your life a gift to others.

Recognise that you are fully supported.

My clients come from all walks of life and all corners of the globe. They are productive and capable people living full-lives. They are in-tune with their growth and are always interested in strategies to be more peaceful. If you are interested in bringing more peace into your life, I can help you. Together we will evolve juicy strategies to have you feel more peaceful, transformed and alive.
Do get in touch for a confidential initial consultation to see if I can help you return to inner happiness that is your birthright.
Details

Category: News
One day in April 2016
People often ask me about my work. What do you actually do?! What kind of people do you work with?
I realise my work is unusual. Walking into all manner of situations through a typical work day. I always feel privileged in my work, working deeply and honestly with people. The challenges are varied, but in each case I support people to untangle themselves and get authentic. I visit many clients in a week at various locations around the City. I walk between appointments wherever possible. I'm a bit of a rambling man, typically walking around London for 7 - 10 miles a day! Here is summary of a typical coaching work day!
I hope you find it interesting.
The Investment Banker, Canary Wharf
My workday started as I hopped the train to Canary Wharf to meet my first client. Sara, a 32yo Asian woman who has been working in an investment bank for the past twelve years. This was to be our fifth session and it was an emotional one. Amidst a flood of tears she confessed that she had now realised that she had been on the wrong path since leaving school. Her parents had nudged her towards banking as a safe option. She vocally hated her job and her health was suffering. Truly, there was nothing "safe" about Sara's predicament. It was no way to live a life full of potential. It had taken several sessions to get her to admit that she'd been climbing the wrong ladder. The nut was at last cracked and over the next few weeks our coaching focus would shift to bring her onto a more authentic vocational path.
My session with Sara took a lot of presence and energy, so I seized the opportunity to do some gentle breath-work to come back to my own center in readiness for my next client. This was to be a telephone client. So I headed west on the Jubilee line to Green Park. I entered the park and found my favourite Lime tree. I laid down and took in the majesty of her giant branches. I connected with the 400 years that she had stood there presiding over the woes of generations of Londoners.
The Divorcing Parisian
My telephone session started, this time with Clo, a wealthy client living in Paris. She had recently come out of a long term relationship. Over previous sessions we had identified the unhealthiness of the relationship and the importance of keeping clear boundaries. I had anticipated that today we would work on her plans for her new life. But No! Coaching sessions are dynamic and anything but predictable. Today's session became a colossal dumping of all her uncertainties as to whether she had done the right thing. What about money? How could she find a new man? Did she ever really love him? Her liquid feminine nature flowed. I held the space and was eventually able to bring her around to exploring the opportunity of healing using a process that facilitated forgiveness, thankfulness and letting go. I felt her resilience return and she felt ready to move into her week. I left Clo with some powerful meditations to experiment with over the following days.

Lunch time! Sushi from Itsu was followed by a meditative nap in the park. My iPhone chimed and it was time to make my way across Hyde park to my next session at a hotel in Kensington.
The Young Entrepreneur
My next client Adam was a young entrepreneur. He was setting up an innovative e-business. Our sessions tended to oscillate between exploring entrepreneurial start-up challenges and the meaning of life. I always love going deep into "what it means to be alive" dialogues, so I was looking forwards to see what he wanted to explore today. After a discussion about cloud formations and the genius and passing of Prince, our session started.
A series of life events had unfolded for him over the past few weeks; an investor had pulled out, his girlfriend had quit her job and he was seriously doubting the idea at the core of his business. He had entered a crisis of self belief and he could feel his otherwise potent passion slipping away. We unpacked his feelings from various angles and it became obvious that the principal issue was that he was exhausted. Nothing particularly mystical, we agreed that the first course of action over the next month was to really look after himself! Great nutrition, exercise, more sleep and a regular meditation practice for starters. I also suggested that he explore 5-Rhythms dance as a way of loosening up. I looked forward to see how he was in a few weeks time.
The Finance Director
I jumped a Central Line train back to the city for my final client. He was a Finance Director in a large multi-national. We had worked together for several months to explore whether he should renew his contract or quit the city and go renovate houses in Yorkshire. This was an important session as it was the day before an important board meeting.

I rang the bell at the apartment where he shacks up during the week. I was aware that he'd been hiking in the Alps since we last met, so our opening connections were an exchange of mountain stories. Our session started. He appeared relaxed and at ease. I hadn't seen him that way for months. He disclosed that he was happy with the decision he had arrived at in our prior session. He was going to quit his job. I had witnessed, explored and prodded for months. He was very mind-lead and my guidance was to follow the heart. My only bias was that he should live the next phase of his life authentically. His decision felt universally supported. Excitement soon gave way to an earnest discussion of departure protocols that would best serve his needs without burning bridges. I could feel his gratitude as I left.

A brisk walk up to Liverpool Street and I was soon on the train back to the deep countryside for some stillness and gorgeous food. As I arrived home I could smell wood smoke loitering in the air, it was a chilly April evening. I took a moment to enjoy the stars and a full moon. It was soon time to hit the hay, in readiness for another day of life coaching.

"Since our meeting of Friday I have been feeling good, there has been a positive release within me. I have been embracing my relationships with friends and family in these past days with such enthusiam. It's startling! I can feel a constant smile on my lips. I'm really feeling the James Brown "Good". Don't laugh at my way of expression, but that is what I'm experiencing. Strangely I feel like I have you sitting on my shoulder whispering repeatedly "What do you value?" You have made me realise that I value a hell of lot, more than what I wrote down on Friday. I THANK YOU for this!!" Executive, Italy.
My clients come from all walks of life and all corners of the globe. They are productive and capable people living full-lives. They are in-tune with their growth and are always interested in strategies to be more peaceful. If you are interested in bringing more peace into your life, I can help you. Together we will evolve juicy strategies to have you feel more peaceful, transformed and alive.
Do get in touch for a confidential initial consultation to see if I can help you return to inner happiness that is your birthright.

PS
I have mixed up names and stories to preserve confidentiality.
Many thanks for the images by bark, tec_estrmberg, NSanche and Andrey Flickr Creative Commons
Details

Category: News
I sat on the sofa zoning out at a silenced TV. I was hating myself.
I felt so useless.
Years of university study, a great career, a new business and friends who look at me as a creative visionary… and downstairs my wife and children utterly dependent on me to provide a home, food and security. Dependent on me also to be the shining light to lead them into a life of love, experiences, and joy…
The slope felt slippery, I was failing. I was a failure. I was a FAILED MAN.
I felt enslaved by my business.
My confidence was draining, and so was my bank account.
All around me "average" men were succeeding, they lacked vision, creativity, and penetrating drive. BUT they were holding the show together. They were creating the happy home that I craved.
Their success only endorsed my sense of man-failure.
I was capable, well educated, but my spark was extinguished.
I had it all, creativity, vision, drive... A warm personable nature. But I felt miserable and dead inside. I DESPERATELY needed the spark to turn this situation around; to become a kindly-King once again and to reclaim my inner throne.
I had never felt so vulnerable.
Many men have variants of these feelings.
~~~
In my work as a Life Coach it is a great privilege to work so deeply with Men. Our dialogues often explore the nuances of a man's power and his vulnerability. A happy man must be able to embrace both polarities of his power and vulnerability.
Let's look at the narratives that surround these two ways of being for a man…
Man Vulnerability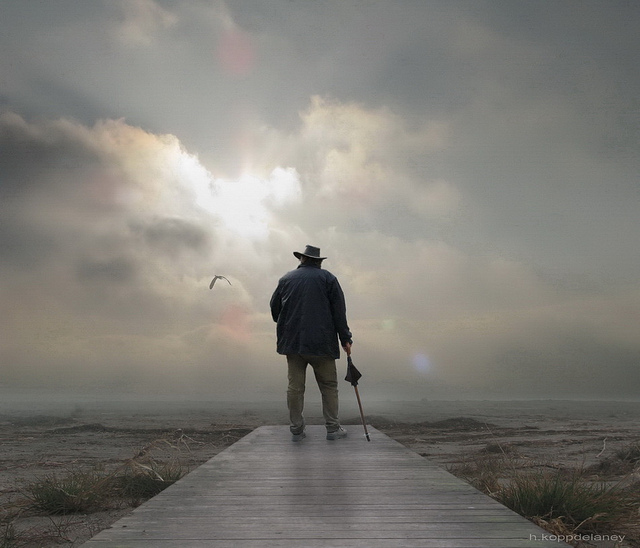 Men need help. Suicide is the biggest killer of men under the age of 45. More men kill themselves than are killed by heart disease, traffic accidents and cancer.
In EVERY man is a vulnerability or a fear of failure. There are few places in life where men can open to explore their relationship to that vulnerability. I have worked with thousands of men, it is a privilege to sit with a man and have him tenderly share his vulnerabilities. It always fascinates me that that behind the "weakness" is a powerful desire to serve, provide and protect his loved ones. But many men don't feel like they can talk about their problems and reach out for help and when they do need help where do they go? Can you name a men's resource centre off the top of your head?
Men speak of 'taking it like a man', 'manning up', 'never crying', 'growing balls' and the list goes on. From the moment they are told to play with cars and avoid pink, there is an immense amount of pressure on men to act a certain way in society, to not be vulnerable. Vulnerability is seen as weak, and what happens when men appear weak? Men speak of feeling shitty, losing respect at work and among their family and peers. But where can you go for support when you feel that way?
Women are the victims in society, the ones who need support, help and holding, right? Our culture teaches women to find men who can hold them, help them, support them. So, what happens when their man can't? Well, the statistics say that men are killing themselves at three times the rate women are.
Where are the tools, the resources, the support in our society? Men are being crushed to always provide and never cry. Sadly also, because men have abused their power through countless generations, women find it very hard to hold space for their vulnerable men. Women start to run stories of being unsupported of hanging out with weeny-men. (If you are one of those women I can help you too!) But men, where to go for help?
Man, it is okay to fail, it is okay to talk, to express emotion, to open up, to break the conditioned man-rules. Holding a compassionate space, I can help Men dance with their vulnerabilities and reconnect with their power; and power doesn't mean ways to overcome women. It means becoming more balanced, sovereign and evolved.
Life is calling us to move into an era of more masculine and feminine balance, where we are all safe to express our truths. By addressing our conditioning, we can heal and become more emotionally balanced, ultimately this will result in less negative expressions of the unbalanced masculine, less men killing themselves.
Man Power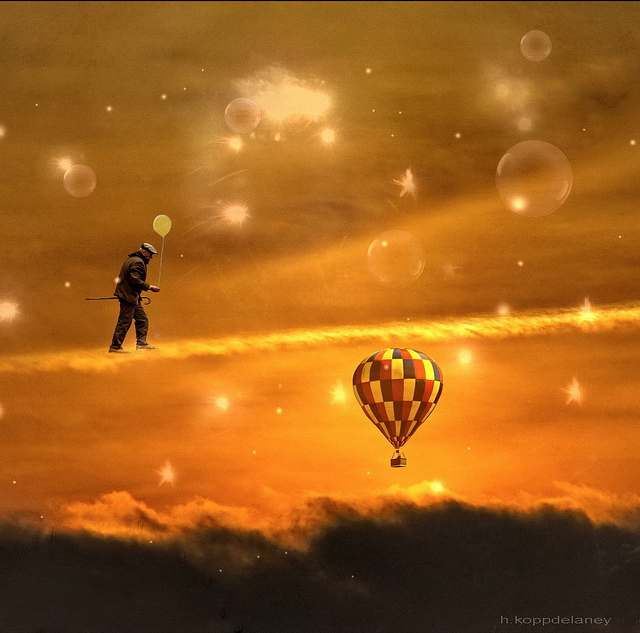 Is yours a life of moaning about the state of the Planet yet you do nothing to change it?
A man who walks boldly into his life, towards the cliff edge of uncertainty, must do so with total trust and faith. I have learned that both trust and faith can be found in the heart. Sadly, many men don't dare consider their hearts, they choose to live life from their heads. Fuelled by the baggage of the past, it is our head that originates and exacerbates our fears. I have seen that deep in our heart is a knowingness that we are fundamentally safe and protected by life.
When we go through processes to leave our baggage behind, we can walk into the future brighter and clearer. When we let go of the past we can create a different future, and be open to new and exciting possibilities. Life coaching can help you with that process, it can help you to step into your power. Let us go on a journey together to help you reclaim your inner power.
When we are engaged with our power we are unafraid to speak our truth, regardless of the consequences. We can walk our path, regardless of what others think of us. Our intuition and inner guidance show us the way. Let me show you how to engage with your integrity, your courage, your voice.
How many men do you know who are standing paralysed at the edge of their dreams, desperate to trust life and jump but terrified of what may, or may not happen? It is fear that holds us back from our power.
Over the past 14 years I have seen that there is no easy way to face your fear. Your fears are your shadow side that gives a voice to worthlessness, ensuring that you remain small and pathetic. I have created a process that can help you identify the fears that keep you small. The process allows us to become conscious of all the negative behaviours and beliefs that are holding you back. It allows you to embrace and acknowledge the ways that you disempower yourself.
Hey man, don't be held back by the past losses and failures, that keep you stagnating and stuck. Know that your heart can naturally lead you to the right people and situations so that you can fulfil your goals and dreams.
This week try being unapologetic and unashamed of who you are and the path you are walking. Stand tall and celebrate You.
Life wants you to thrive. Trust that.
We are the ones we've been waiting for.
Do it.
Do it now.
Your misery, your cold unlit darkness serves no one.
My clients come from all walks of life and all corners of the globe. They are productive and capable people living full-lives. They are in-tune with their growth and are always interested in strategies to be more peaceful. If you are interested in bringing more peace into your life, I can help you. Together we will evolve juicy strategies to have you feel more peaceful, transformed and alive.

Do get in touch for a confidential initial consultation to see if I can help you return to inner happiness that is your birthright. Call me on 0845 402 1850 or email or to learn more about life coaching.

Go well.
~~~
Many thanks for the image by h.koppdelaney, Flickr CC
Details

Category: News