Life Coaching and Professional Coaching for Individuals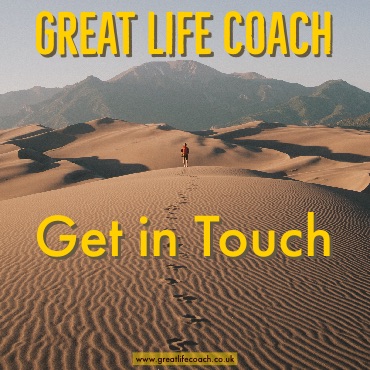 Get in Touch Today. Let's do it!
I offer the following custom life coaching programs... choose which one suits you or go here if you are uncertain. Details of each coaching program can be found by clicking below.
- Face to Face Life Coaching in London and Hertfordshire
- Worldwide telephone life coaching
Don't contact me if you don't want to make amazing changes in your life.
Many of my clients are hard-working, productive, intelligent capable people living full lives. They are in tune with their growth and are always interested in strategies to be more purposeful, passionate, and peaceful. They use our coaching relationship as an effective, challenging, positive way to deal with life's dips, lulls, depressions, uncertainties, and energy drains. Together we evolve juicy strategies to continue feeling, purposeful, peaceful, and passionate.
Click here to submit an inquiry form -- I will contact you promptly at a time of your choosing
or call me on 0330 058 8385
or email me: info @ greatlifecoach dot co dot uk