Life Coaching for Twenty somethings
The young do not know enough to be prudent, and therefore they attempt the impossible, and achieve it, generation after generation. (PBuck)
If you are unhappy
AND your unhappiness is limiting your life
AND you are ready to live a Passionate, Purposeful and Peacful life
THEN welcome to Great Life Coach, YOU are in the right place!
It is a privilege to work with men and women in their twenties. An exciting phase of life where you sow the seeds from which your oak trees will grow. This formative time of life presents many opportunities for life skills coaching, including getting your perfect career off the ground, finding your soul mate and discovering what you are here for.
It's about the Confidence to be YOU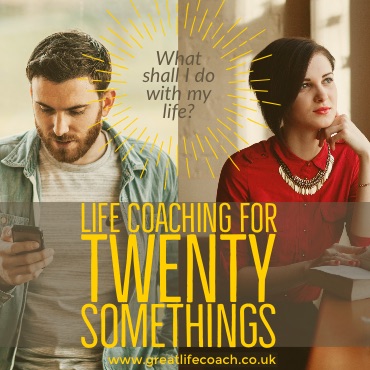 The educational process tends to de-nature, putting us out of touch with who we really are... now is the time to tune into your essence, discover your true self and design your perfect future. Perhaps you have wrestled with the question, what should I do with my life?
You are a magnificent thing. You are your uniqueness. What what you have to bring to this world is totally unique. But so often people in their twenties lack the confidence to be themselves, subscribing to peer pressure and cultural guidances to be "normal". There's no wonder so many young peeps feel lost or stuck.
Your first step is to get in touch with YOUR uniqueness. But, do you have the balls to be YOU? Are you ready to be the true YOU? DO you know which bit is the true you? Our Life Coaching can specialise in giving you the balls to be YOU!
Your liberation starts with the recognition that YOU are in charge of your own life. If you choose a path into the next ten years guided by fear and no-boundaries, what will your life look like when you are 30? How would it look if you lived your dreams?Realize that no one else has a right to tell YOU how to be and how to live.
It is YOUR life. In just a few sessions we can get you on YOUR right track.
After you have discovered who you are, it is then time to work out what you want to go do with your life.
It's about having a Sense of Direction
What career? What partner? Who to please? You are the first generation to have so much choice as to how to live your life and what to do for a living. These days, there's no such thing as a job for life, it's acceptable to change jobs half a dozen times – or more - in ten years. And no one bats an eyelid if you decide to go off travelling round the world for a year or two! Freud said that human beings oscillate between their need for security and their need for freedom. At some point in the 20th century, security was junked in favour of freedom. The price 20-somethings pay for that freedom is a loss of focus and accompanying stuckness. Many people in their twenties are lost or directionless. Its easy for life to become a nervy roller coaster ride of adrenaline and depression... But it doesn't have to be that way, your twenties can be a radically brilliant decade... If you choose.
It's about Creating the Life that Really Turns you On
True freedom is to be the authentic YOU. Life coaching will help you align with your true values, life purpose and fullest potential so you can embody the freedom that is yours for the taking. Let's work together to create that life that really turns YOU on.
Who you are in the future is up to YOU.