Life Coaching for Thirty somethings
Too many people spend money they haven't earned to buy things they don't want to impress people they don't like.(Rogers)
If you are unhappy
AND your unhappiness is limiting your life
AND you are ready to live a Passionate, Purposeful and Peacful life
THEN welcome to Great Life Coach, YOU are in the right place!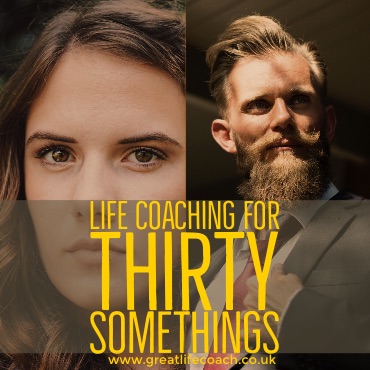 Our 30's are a formative decade. This decade more than any other can shape the rest of your life. From a professional viewpoint now is the time to let your career flourish and be all that you can be. And from a personal standpoint you will have sampled many of life's pleasures, challenges, careers, lovers, gifts, griefs, uncertainties, fears and doubts and you will have a deep knowing that NOW is the time to get it right.
Many 30 year olds wake up to the fact that they have been living their lives to satisfy other people, ignoring their true self. You are at a critical life-shaping juncture in your life where you need to commit to your inner authenticity and not be distracted by the conflicting voices from friends, family, colleagues, and the media that you hear every day.
Perhaps it's time to assert some boundaries, make some changes, start living your own confident life. If you continue to split your loyalties, you may well fall into a period of negativity and depression. Did you know you have inner guidance system? Listening to your inner guidance can help you find your own heaven-on-earth.
SING WHILE YOU CAN!
The right career, the right soul mate, the right outlook on life all determine your state of peace and happiness in this world... who you are in the future is up to YOU.
Are the free YouTube videos not working? If you could do it on your own, you would have! Maybe I am your messenger. Most people can't handle what they need to hear, they'd rather bury their heads in the sand. That's what an investment in great life coaching does for you, it creates your opening to hear your Truth. The truth is often uncomfortable.
You truly want to change? You've got to get in touch with your Truth. The coaching investment creates receptivity and keeps you there. Ask for help, receive my help and take responsibility.
Are you happy in your Career?
The people who get on in this world are the people who get up and look for the circumstances they want, and, if they can't find them, make them.(GB Shaw)
Many people in their thirties are frantically climbing a ladder to somewhere. Sometimes they wake up feeling uncertain and disconnected -- and then at night, fall asleep feeling lost, unbalanced or powerless. It doesn't have to be that way, you are not a victim. Every choice you have made has got you to where you are right now. Often some small changes can yield quick results. I have developed a coaching process that reconnects you with your authentic-self, allows you to discover a sense of purpose in life and empowers you to confidently get your career back on track.
Many of the people I work with use life coaching to make career changes, perhaps I can help you too.
Are you happy with your Partner?
So what about love? Are you in the right relationship? Maybe its time to get into action and attract-in your woman, or life-partner-man. Time to make a subtle relationship tune-up or some radical changes? But maybe you aren't sure any more?
Or perhaps you are feeling lonely as you haven't created quality time to find a lover yet? There is no reason why your love life shouldn't be full of vitality, passion and the deepest joys. Life coaching can help you reconnect with your heart, your body and what you have to give to your relationship. Or maybe some coaching for couples would help?
And what about starting a family? Decisions about starting a family can be postponed until your late thirties or early forties. These social changes mean that we have much more opportunity and flexibility than ever before. The downside can be that, with so much choice, it becomes difficult to decide what to do with our lives – and most of us don't get it right first time. Over the years I have helped many clients make crucial choices over the big children vs professional life conundrum.
Are you happy with your Outlook on Life?
Life is a magical place to be. Agree? If you've been listening to your head then maybe your outlook on life has become distorted. Maybe you feel disconnected. Maybe you believe you aren't worth it or have lost confidence or are feeling generally unbalanced or stressed? Peace is yours for the knowing, and I can help you find it. I can help you work out what should I do with my life?
Your heart wants only happiness for you, it has a great deal of guidance and wisdom for you. If you ignore it's wisdom it will have you feeling lost, stuck, confused and directionless.
Now is the time to tune into your essence, discover your true self, design your perfect future and confidently change for the better. Now is the time to commit to a non-negotiable understanding with yourself. I have worked with hundreds of people in their thirties, let me also help YOU create the life you deeply aspire to.

Self-Help Resources for Peeps in their Thirties
Advertisments - I'd love to work deeply with you. But if life is calling you to go-it-alone right now, then you may find the following resources useful. And of course it goes without saying, if you need any help or reflection along the way, do give me a call even if its just for an hour!
Take a good look at yourself
Here are a few books that I really enjoyed. Use these texts to stir up your self-reflection and build some perspective on how you are living your life.
As you start to become aware that some change may be necessary, this easy but punchy read from Marianne Williamson may sow some seeds of positive change.
~
If the prospect of living an authentic life resonates with you, nobody says it better than Ayn Rand. This is a long page-turner that underpins extra-ordinary levels of self determination levelled against the greater-powers of the institutional machine that we all find ourselves a poart of. Enjoy. A fab holiday read.
~
I am a colossal fan of the practiuce of GRATITUDE. This heart-wrenching story teaches us how much we have to be grateful for in the incredible times that we live in. I was given this book by a girlfriend in Australia thirty yearts ago. I still rate it as a great book. Again, a good holiday read. x
Adventure Travel
Sometimes plonking yourself into a new adventure-led environment, surrounded by people from all walks of life is a great way to start your inner journey. Take your journal, do the 60-Minutes-to-a-New-You exercise and go on an Adventure!
Perhaps its time to go on a Spiritual, Yoga or Meditation Retreat? Take a look at this Self Help Resource and see if you can find a retreat that fits youyr circumstances.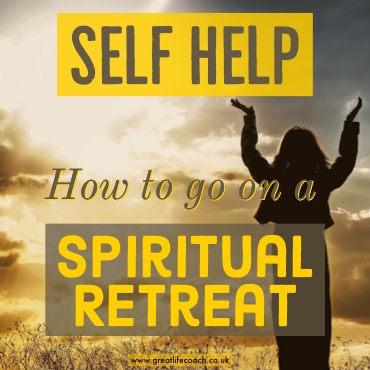 ~
Change the way you look at your holiday time. Embrace the Bizarre: Boldly embark down a path less travelled. Bizarre? Maybe. Exciting? You bet.
G Adventures offer adventure-craving travellers an alternative to the resorts, cruises and motorcoach tours they were accustomed to.
They love Changing Lives / Doing The Right Thing / Creating Happiness and Community:
~
Contiki is the original travel company for the young, wild and free and has perfected the art of travel for 18-35 year old's over the past 55+ years. They have 300 trips spanning 6 continents, with the best team in the business. They offer flexibility through 8 ways to travel, 5 ways to stay and endless free time and options. Because they know you only get one life, one shot. So you better make it count.
Well-Being - Look after your Body
Health and well-being is often explored in a coaching relationship. When clients are readying themselves to make tangible changes in their lives, I like to encourage people to move towards the best version of themselves (why wouldnt you?). If you are on a DIY personal development program, improving your wellbeing is a pre-requisite.
Vitabiotics has manufactured innovative health care products for over 30 years. A British company committed to human health and research. Vitabiotics has created a unique portfolio of products at the forefront of scientific developments in key sectors, including nutrition and women's health. Vitabiotics manufacture some of the best known health products from the high street, including Wellman, Jointace, and immuneace.
~
FitTrack is a Fitness Technology brand that enables individuals to reclaim their health. Through our FitTrack Dara scale, users can track, trend, and historically view their health metrics. We are changing the way people view scales, and how they feel about daily weigh-ins, by moving beyond tracking just your weight. Our synchronized scale and app lets users track 17 different health metrics (including BMR, Hydration Rate, Muscle Mass) from their smartphone. FitTrack combines accuracy, approachability, and affordability, making us the most value-friendly smart scale on the market. Having just launched this past year, FitTrack has already grown to over 125,000 users with an average rating of 4.9 stars.
If you're a food lover who also loves saving money then this deal is a must!
Tastecard began life as a tastelondon back in 2006, today, with over 6,000 restaurant partners we are proud to say that tastecard is the UK's No.1 Diners' Club.
A tastecard membership gives you 50% OFF the total food bill or two meals for the price of one at thousands of participating restaurants. What's more, tastecard+ offers members up to 40% off cinema tickets, 50% off days out and more! If you're a food lover who also loves saving money then this deal is a must!