Life Coaching for Sixty Somethings+

Life skills coaching for sixty-something men and women
For the first half of your life, people tell you what you should do; for the second half, they tell you what you should have done. (R Needham)
Firstly, congratulations for finding this great life coach website. Exploring the prospect of personal development and executive coaching at such an experienced and wise phase of your life is an exciting and life-expanding opportunity for you, well done! Keep going...
What purposeful expression (they used to call it career) should you pursue in your latter phase of life? What will you do with your leisure time? Where will you live? All of these questions can be answered best in light of your passion. What is your heart's desire? What leisure will fuel this same fire? What location will best facilitate it? ANd with who? Very often all that is needed to get-happy is to align with our own Happiness Compass. I can help you align with YOUR happiness compass.
The oldest person I have coached so far is 77 (we'll call her sixty something) and we have a joyful and effective working relationship. Unless you are up for a different, youthful, insightful, spiritual perspective on what you should be doing with your golden years, the best I am able to offer at this time is an inspirational story*... Or feel free to get in touch to explore if I can help you!

The first day of school our professor introduced himself and challenged us to get to know someone we didn't already know. I stood up to look around, when a gentle hand touched my shoulder. I turned around to find wrinkled, little old lady beaming up at me with smile that lit up her entire being.

She said, "Hi handsome. My name is Rose. I'm 87 years old. Can I give you a hug?"

I laughed and enthusiastically responded, "Of course you may!", and she gave me a giant squeeze.

"Why are you in college at such a young, innocent age?" I asked.

She jokingly replied, "I'm here to meet a rich husband, get married, have a couple of kids..."

"No seriously," I asked. I was curious what may have motivated her to be taking on this challenge at her age.

"I always dreamed of having a college education and now I'm getting one!" she told me.

After class we walked to the student union building and shared a chocolate milkshake. We became instant friends. Every day for the next three months we would leave class together and talk non stop. I was always mesmerized listening to this "time machine" as she shared her wisdom and experience with me. Over the course of the year, Rose became a campus icon and she easily made friends wherever she went. She loved to dress up and she revelled in the attention bestowed upon her from the other students. She was living it up.

At the end of the semester we invited Rose to speak at our football banquet. I'll never forget what she taught us. She was introduced and stepped up to the podium. As she began to deliver her prepared speech, she dropped her 3 x 5 cards on the floor. Frustrated and a little embarrassed, she leaned into the microphone and simply said, "I'm sorry I'm so jittery. I gave up beer for Lent and this whiskey is killing me! I'll never get my speech back in order, so let me just tell you what I know."

As we laughed, she cleared her throat and began, "We do not stop playing because we are old; we grow old because we stop playing. There are only four secrets to staying young, being happy, and achieving success. You have to laugh and find humour every day. You've got to have a dream. When you lose your dreams, you die. We have so many people walking around who are people walking around who are dead and don't even know it! There is a huge difference between growing older and growing up. If you are 19 years old and lie in bed for one full year and don't do one productive thing, you will turn 20 years old. If I am 87 years old and stay in bed for a year and never do anything, I will turn 88." "Anybody can grow OLDER. That doesn't take any talent or ability. The idea is to grow up by always finding the opportunity in change. Have no regrets. The elderly usually don't have regrets for what we did, but rather for things we did not do. The only people who fear death are those with regrets." She concluded her speech by courageously singing "The Rose." She challenged each of us to study the lyrics and live them out in our daily lives. At the year's end Rose finished the college degree she had begun all those years ago. One week after graduation Rose died peacefully in her sleep.

Over 2,000 college students attended her funeral in tribute to the wonderful woman who taught by example that it's never too late to be all you can possibly be. When you finish reading this, please send this peaceful word of to your friends and family, they'll really enjoy it! These words have been passed along in loving memory of ROSE.

REMEMBER: GROWING OLDER IS MANDATORY. GROWING UP IS OPTIONAL. We make a Living by what we get; we make a Life by what we give. We are what we want to be and we make our life the way we want it.

*This items may be copyright. If you are the copyright holder, contact me and I will remove the material immediately.

My London based one-to-one life coaching, executive coaching and personal development programs work to help you explore your inner-being, aligning with your true values, life purpose and fullest potential. Reveal your true self in your personal life, foster success in your professional life and live in a state of authentic happiness,,, Today.
I partner with intelligent people who want to excel at their passions, gifts and talents in a way that brings them success, life balance and happiness.
Ready, give me a call.
Self-Help Resources for Folks in their Sixties
I'd love to work deeply with you. I have worked with many people in their 60's and I've built an understanding of some core life-secrets that can allow you to develop a trajectory towards more Purpose, more Passion, more Connection and more Peace in your life during that powerful decade...
But if life is calling you to go-it-alone right now, then you may find the following lower-investment DIY resources useful. And of course it goes without saying, if you need any help or reflection along the way, do give me a call even if its just for an hour!
Personal Development
Here are a few books that I really enjoyed. Use these texts to stir up your self-reflection and build some perspective on how you are living your life.
If you feel blocked by your past, then do give this a read.
Byron Katie woke up on the floor of a halfway house, at a complete dead end in her life, and began to laugh. She had woken up without any concept of who, where, or what she was. She awoke to the fundamental, luminous state of being that is without any separation, that experiences itself as pure love. Like great spiritual masters from many traditions, she knew she had reached the end of confusion and suffering. That was the moment she burst into laughter. Determined to give people a way to discover for themselves what she had realized, Katie developed a simple method of self-enquiry that she called The Work, a life-transforming system for discarding the stories we tell ourselves, which are the source of suffering, and replacing them with the truth ("what is") and a life of total joy. She began teaching The Work wherever she was invited - at first in small, informal gatherings and eventually to packed workshops around the world. The Work consists of only four simple questions that you can apply to any problem. It is so easy and practical - but also profound in its application.
If you'd like support with any of the Work that Byron explores do give me a call and we can drill into them big-time.
Perhaps its time to go on a Spiritual, Yoga or Meditation Retreat? Take a look at this Self Help Resource and see if you can find a retreat that fits youyr circumstances.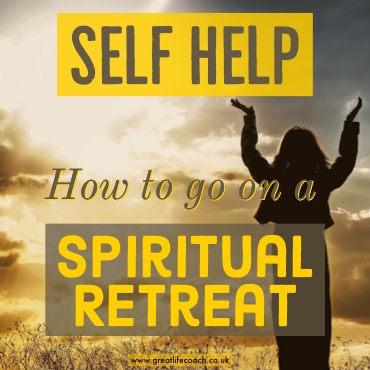 ~
~
In my life coaching work we often take a good look at Shadow. Those parts of ourselves that we've buried, the parts of ourselves that are not seen, the blind spots. Yet those parts of ourselves still have a big influence on our adult-lives. If you've never taken a good look at your own shadow before, your sixties are great time to do it! You may like to take a good look at this self-help course. The Shadow Course is an eight–week transformational learning experience with two of my favourite life-skills teachers.

Alarmed by the unconsciousness in our world today, Caroline and Andrew joined forces to create this in-depth journey. Think of it as a guide to uncovering what you don't know about yourself so you can come into alignment with your true power and purpose.

Of course, it's not easy to see what we don't want to see about ourselves. There is a reason we turn away from certain truths and that our greatest inner treasures often remain hidden. The Shadow Course offers a journey of self-confrontation, one that requires courage, truth-telling, and a willingness to grow. This is "a holy adventure."
My life coaching work encourages you to walk an Authentic path in life. You can only be authentic if you fully accept who you are. This online resource presents insights and guidances on ways you can fully accept yourself.
Resources for the Good Times
Ohhhh Dorset! I have spent so many beautiful hours walking in your countryside. Perhaps now is the time to arrange a recharge getaway. Sometimes plonking yourself into a new environment, surrounded by people from all walks of life is a great way to start your inner journey.
Take your journal, do the 60-Minutes-to-a-New-You exercise and go on an Adventure in Dorset!
~
I love to savour a finely crafted bottle of wine. You may like to convivially enjoy a some wine (while in Dorset!). Take a look at this fine-wine merchant.
Vintage Wine and Port is the UK's leading internet wine gift merchant. We are proud to offer the largest range of vintage and anniversary wines in the UK. Many of the products in these years are exclusive to Vintage Wine and Port Ltd and do not appear anywhere else. In addition, the company stocks a wide variety of not only vintage wines but also Cognac, Port and Champagne. These top class wines make unique and thoughtful gifts for birthdays, anniversaries, corporate gifts and any other special occasion. Our wine gifts can be supplied in beautiful boxes and delivered next working day. Specialising in gifts for anniversaries (e.g. 50th Birthday),
Well-Being - Look after your Body
Health and well-being is often explored in a coaching relationship. When clients are readying themselves to make tangible changes in their lives, I like to encourage people to move towards the best version of themselves (why wouldnt you?). If you are on a DIY personal development program, improving your wellbeing is a pre-requisite.
Vitabiotics has manufactured innovative health care products for over 30 years. A British company committed to human health and research. Vitabiotics has created a unique portfolio of products at the forefront of scientific developments in key sectors, including nutrition and women's health. Vitabiotics manufacture some of the best known health products from the high street, including Wellman, Jointace, and immuneace.
~
We all need one of these...
Have you noticed that The Law of Attraction, affirmations, vision boards, and/or your go-to forms of prayer and meditation, are no longer yielding the "answers" you're seeking?
If so, you may be ready to move beyond visualization and into living in a visoning state. In a visioning state, you no longer need to "outpicture" your vision — instead, you radiate it because consciousness is guiding you to operate from the highest expression of yourself.
Bestselling author, spiritual teacher, and founder of Agape International Spiritual Center, Michael Bernard Beckwith, will help you move beyond the limits of visualization — to begin living as your vision. You can reserve your space for Living in a Visioning State in Your 40s, 50s & Beyond: Discover 4 Frequencies of Consciousness to Radiate Your Soul's
~
So much of Western culture views our older years as a time of physical diminishment and waning contribution. Yet these years can actually be the most spiritually meaningful time of your life!
There is no wiser guide for turning the challenges of aging into a spiritual opportunity than beloved teacher Ram Dass!
I'm thrilled to have the opportunity to invite you to a FREE virtual event with one of the preeminent spiritual teachers of our time:
Relaxing Into Aging: How to Befriend the Changes With Humor, Grace and Lightness of Being
If you're a food lover who also loves saving money then this deal is a must!
The Gourmet society was developed and founded in the Midlands back in 2003.
Our loyality card can be used in over 6,500 restaurants across the UK, and we are proud to say that gourmet society is one of the UK best loved diners club cards. A gourmet society membership gives you up to 50% OFF food or 25% OFF the total bill - including drinks at thousands of participating restaurants.
What's more, your gourmet society card can also be used to obtain up to 40% off cinema tickets, discounts on days out & afternoon tea, plus much more! If you're a food lover who also loves saving money then this deal is a must!