Life Coaching for Millenials
The young do not know enough to be prudent, and therefore they attempt the impossible, and achieve it, generation after generation. (PBuck)
If you are unhappy
AND your unhappiness is limiting your life
AND you are ready to live a Passionate, Purposeful and Peacful life
THEN welcome to Great Life Coach, YOU are in the right place!
It is a privilege to work with men and women in their twenties. An exciting phase of life where you sow the seeds from which your oak trees will grow. This formative time of life presents many opportunities for life skills coaching, including getting your perfect career off the ground, finding your soul mate making sense of it all and discovering what you are here for.
It's about the Confidence to be YOU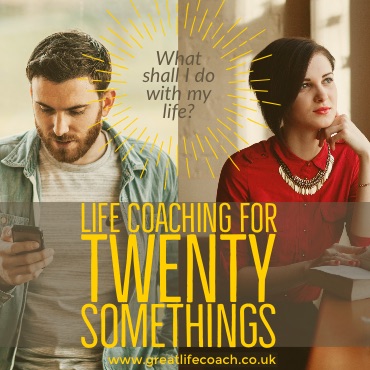 Let me show you how to STEP INTO YOUR SOVERIEGNTY.
The educational process tends to de-nature, putting us out of touch with who we really are... now is the time to tune into your essence, discover your true self and design your perfect future. Perhaps you have wrestled with the question What should I do with my life?
You are a magnificent being. You are your uniqueness. What what you have to bring to this world is totally unique. But so often people in their twenties lack the confidence to be themselves, subscribing to peer pressure and cultural guidances to be "normal". There's no wonder so many young peeps feel lost or stuck.
Your first step is to get in touch with YOUR uniqueness. But, do you have the balls to be YOU? Are you ready to be the true YOU? DO you know which bit is the true you? Our Life Coaching can specialise in giving you the balls to be YOU!
Your liberation starts with the recognition that YOU are in charge of your own life. If you choose a path into the next ten years guided by fear and no-boundaries, what will your life look like when you are 30? How would it look if you lived your dreams? Realize that no one else has a right to tell YOU how to be and how to live.
It is YOUR life. In just a few sessions we can get you on YOUR right track.
After you have discovered who you are, it is then time to work out what you want to go do with your life.
It's about having a Sense of Direction
What career? What partner? Who to please? You are the first generation to have so much choice as to how to live your life and what to do for a living.
These days, there's no such thing as a job for life, it's acceptable to change jobs half a dozen times – or more - in ten years. And no one bats an eyelid if you decide to go off travelling round the world for a year or two! Freud said that human beings oscillate between their need for security and their need for freedom. At some point in the 20th century, security was junked in favour of freedom. The price 20-somethings pay for that freedom is a loss of focus and accompanying stuckness. Many people in their twenties are lost or directionless. Its easy for life to become a nervy roller coaster ride of adrenaline and depression... But it doesn't have to be that way, your twenties can be a radically brilliant decade... If you choose.
Frankly it is about becoming a visionary, a shaper, a leader
You are inheriting a fucked-up planet. And frankly it is YOUR JOB TO SORT IT OUT. Your parents generation haven't taken charge yet. The world needs YOU to take charge. Leverage your knowledge of digital platforms. Leverage your beautiful questioning of the old ways. Step into your sovereignty to show you the way forward. Be with the nature of what is REAL (environmental collapse, broken capitalism, species anhilation, starving people, diseased people, infertile people).
Let me show you how to take it upon YOURSELF to go run the world , it is your turn.
Rather than living a vague faked-up extended adolescence, take the cognitive responsibility to SHOW UP. Let me empower you to go make the best choices for yourself, the best choices for your generation.
Friend, it is time to give your best capacity back to the world.
It's about Creating the Life that Really Turns you On
Are the free YouTube videos not working? If you could do it on your own, you would have! Maybe I am your messenger. Most people can't handle what they need to hear, they'd rather bury their heads in the sand. That's what an investment in great life coaching does for you, it creates your opening to hear your Truth. The truth is often uncomfortable.
You truly want to change? You've got to get in touch with your Truth. The coaching investment creates receptivity and keeps you there. Ask for help, receive my help and take responsibility.
Self-Help Resources for Peeps in their Twenties
Advertisments - I'd love to work deeply with you. I love working with younger folks. I find it so exciting to help people just starting out in life get their stuff together. I have worked with many people in their 20's and I've built an understanding of some core life-secrets that can allow you to develop a trajectory towards more Purpose, more Passion, more Connection and more Peace in your life...
But if life is calling you to go-it-alone right now, then you may find the following lower-investment DIY resources useful. And of course it goes without saying, if you need any help or reflection along the way, do give me a call even if its just for an hour!
Personal Development
Here are a few books that I really enjoyed. Use these texts to stir up your self-reflection and build some perspective on how you are living your life.
This is an accessible read. Bernstein does a great job at creating a foundation of core-truths from which to live your life. She has translated the deeper text of A Course in Miracles into language fit for a modern 20-something. Do give this a read, and if any of the teachings she explores leave you with questiions, do give me a call and we can drill into them big-time.
~
My life coaching work encourages you to walk an Authentic path in life. You can only be authentic if you fully accept who you are. This online resource presents insights and guidances on ways you can fully accept yourself from a plethora of teachers. Self-Acceptance Summit, How to Overcome Self-Judgement and Live a Life of Bravery, Compassion, and Authenticity. How often do you hear inner voices saying you're not good enough, not tough enough, not fit enough? How much time do you spend dwelling on regret, shame, and things you wish you could do over? Why do we think it's a good thing to be "our own worst critic"?
Imagine if you could take all the energy you spend on self-criticism and use it in a different way. What would it be like to become your own best advocate and greatest supporter in the world?
Whether you seek health and happiness in your own life or are hoping to be of greater service in the world, your relationship with yourself is always the starting point. Accepting ourselves—especially those parts we find most shameful or frightening—has a positive impact on nearly every experience in our lives. Give me a call if you'd like to explore this subject deeply.
~
The Life Wisdom Matrix
I'm in the top 3% of people on our planet, those who live with inner success & inner happiness, and I can show you how to get there too! You cannot change the past but you can and will change the present. When that happens, you attract better possibilities for your future. A fruitful future where everything you wish and hope for will begin to happen.
Here is a low cost online life coaching program that may be of interest -- The Life Wisdom Matrix - Do you want to be the 3% that succeed... Or the 97% that fails? Let me get you into the 3% club! If you are ready to GROW YOUR LIFE and GROW YOUR BUSINESS.
Dream Life Mastery
Discover The Cutting-Edge 'Mind Transformation' Method For Creating A Life You LOVE Living -- Dream Life Mastery
Panic Attacks and Anxiety
From time to time I work with people who have Panic attacks or Anxiety. You may like to check out this resource for some DIY methods for overcoming Panic attacks and Anxiety.
Adventure Travel
Sometimes plonking yourself into a new adventure-led environment, surrounded by people from all walks of life is a great way to start your inner journey. Take your journal, do the 60-Minutes-to-a-New-You exercise and go on an Adventure!
Change the way you look at your holiday time. Embrace the Bizarre: Boldly embark down a path less travelled. Bizarre? Maybe. Exciting? You bet.
G Adventures offer adventure-craving travellers an alternative to the resorts, cruises and motorcoach tours they were accustomed to.
They love Changing Lives / Doing The Right Thing / Creating Happiness and Community:
~
Contiki is the original travel company for the young, wild and free and has perfected the art of travel for 18-35 year old's over the past 55+ years. They have 300 trips spanning 6 continents, with the best team in the business. They offer flexibility through 8 ways to travel, 5 ways to stay and endless free time and options. Because they know you only get one life, one shot. So you better make it count.
Well-Being - Look after your Body
Health and well-being is often explored in a coaching relationship. When clients are readying themselves to make tangible changes in their lives, I like to encourage people to move towards the best version of themselves (why wouldnt you?). If you are on a DIY personal development program, improving your wellbeing is a pre-requisite.
Vitabiotics has manufactured innovative health care products for over 30 years. A British company committed to human health and research. Vitabiotics has created a unique portfolio of products at the forefront of scientific developments in key sectors, including nutrition and women's health. Vitabiotics manufacture some of the best known health products from the high street, including Wellman, Jointace, and immuneace.
~
FitTrack is a Fitness Technology brand that enables individuals to reclaim their health. Through our FitTrack Dara scale, users can track, trend, and historically view their health metrics. We are changing the way people view scales, and how they feel about daily weigh-ins, by moving beyond tracking just your weight. Our synchronized scale and app lets users track 17 different health metrics (including BMR, Hydration Rate, Muscle Mass) from their smartphone. FitTrack combines accuracy, approachability, and affordability, making us the most value-friendly smart scale on the market. Having just launched this past year, FitTrack has already grown to over 125,000 users with an average rating of 4.9 stars.
If you're a food lover who also loves saving money then this deal is a must!
Tastecard began life as a tastelondon back in 2006, today, with over 6,000 restaurant partners we are proud to say that tastecard is the UK's No.1 Diners' Club.
A tastecard membership gives you 50% OFF the total food bill or two meals for the price of one at thousands of participating restaurants. What's more, tastecard+ offers members up to 40% off cinema tickets, 50% off days out and more! If you're a food lover who also loves saving money then this deal is a must!