Life Coaching for Forty somethings
If you are unhappy
AND your unhappiness is limiting your life
AND you are ready to live a Passionate, Purposeful and Peacful life
THEN welcome to Great Life Coach, YOU are in the right place!
Sparkle Don't Fade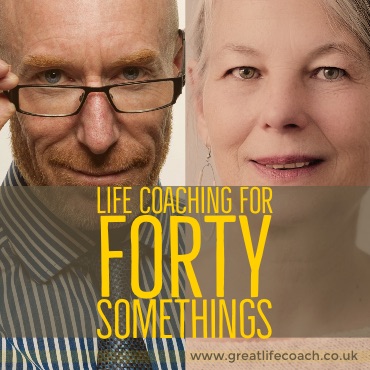 Our mid-life is a clarifying time, a time for introspection, a time when we realise that we must establish meaning and purpose in our lives. We have grown, prospered and perhaps stagnated on the life foundation we laid over the last twenty years of our working lives and we now live off the bitter and sweet fruits of the choices we have made. Maybe you can feel an inner-knowingness that something needs to change.

Maybe you don't know what to believe anymore, what to trust or who you are? What to change though? Maybe its a big change or a few small ones. A career change, a relationship change, or its time to stop kidding ourselves? In our 40's our habitual rut is etched deep and change may feel impossible.

Adulthood comprises of many phases of being, each phase involves a shift of identity and the opportunity of a breakthrough into a larger self.

This is the true joy in life, being used for a purpose recognized by yourself as a mighty one: being a force of nature instead of a feverish, selfish little clod of ailments and grievances, complaining that the world will not devote itself to making you happy. (GB Shaw)
Many stories of Re-Invention start with pain --- Is your Comfort Zone no longer Comfortable?
Fortified in the safety of our comfort-zone, many of us choose to ignore or numb the aspects ourselves that are urging us to make changes. When we were younger, we shot for the stars and experienced much of what this beautiful world has to offer and perhaps wrestled with the ineffable aspects of our spirituality. For many though, unhappiness, depression, stress and imbalance permeate our lives. Maybe you feel just feel disconnected. Maybe you are in the a profound and troubling meltdown that comes in midlife when you perceive that your personal trajectory is no longer arcing reliably upward as it once did.
Are the free YouTube videos not working? If you could do it on your own, you would have! Maybe I am your messenger. Most people can't handle what they need to hear, they'd rather bury their heads in the sand. That's what an investment in great life coaching does for you, it creates your opening to hear your Truth. The truth is often uncomfortable.
You truly want to change? You've got to get in touch with your Truth. The coaching investment creates receptivity and keeps you there. Ask for help, receive my help and take responsibility
The Dalai Lama has this to say ... "...sacrifice your health in order to make money. Then you sacrifice money to recuperate your health. Then you are so anxious about the future that you don't enjoy the present: the result being that you do not live in the present or the future; you live as if you are never going to die, and then you die having never really lived." ... It doesn't have to be that way!
Unhappiness is the cue to embark on a new path; I can help you discover a path that is optimum for YOU. Over the next few months we can work together that take a deep look at your life situation. We can identify the opportunities for change and the opportunities to assert boundaries. Maybe the opportunity to start dating again! We can establish exactly what you would like the next decade to look like and we can deploy a solid plan to get you there.
As we enter and begin to face the second half of our lives, we all have the opportunity to face our mortality and this brings up existential issues.
What have I accomplished in my life?
What do I have yet to accomplish?
What might I never accomplish?
What will I leave behind?
What kind of person have I been and what kind of person do I want to be?
Does my life have meaning?
Maybe its time to start a meditation practice. Perhaps a mid-life crisis appears.
"In the space between stories, we don't know how to navigate. The ways in which we once related to the world are no longer sufficient to the challenges we face, whether as individuals or as a species. Eventually, a new story is born to guide us, to provide meaning again, to give us a narrative structure that tells us who we are, where we are going, what is important, what is right, and how the world works. The new story follows and reinforces a new state of being." (C Eisenstein)
If not Now, When?
Success and applause are pleasantly reassuring, but alas they are often too brief and difficult to maintain. Yesterday you were irreplaceable; today someone else has taken your seat. And after every fantastic far away holiday, you always have to come back home, where your dream car, or what is left of it, awaits you. (Oldegberts)
Time is ticking. Life is beautiful. I can help you find Passion, Purpose, Confidence and Peace in your life.
Now is the time to tune into your essence, discover your true self, design your perfect future and confidently change for the better. Get in Touch today and we can discuss my approach and the many ways that I can help you get back on track.