Life Coaching for Fifty Somethings
If you are unhappy
AND your unhappiness is limiting your life
AND you are ready to live a Passionate, Purposeful and Peacful life
THEN welcome to Great Life Coach, YOU are in the right place!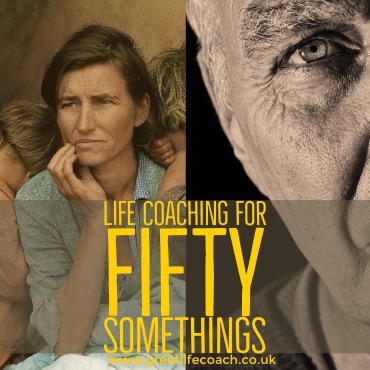 Firstly, congratulations for finding this great life coach website. Exploring the prospect of personal development and professional coaching at such an experienced and empowered phase of your life is an exciting and life-expanding opportunity for you, well done! Keep going...
Change begins with the heartfelt, the simple and the joyful. Change begins with activities that encourage us to be more open, trusting and willing to let go of the old ways.
Having spent the first half of life trying only to live up to the expectations of others - your parents, your spouse, your children, or boss -- perhaps you have no idea what really gives you pleasure. Maybe the next half of life it is time to MARCH TO THE BEAT OF YOUR OWN DRUM.
So reflect and experiment. What were the day-dreams of your youth? What have you always wanted to do but were afraid to try? What's stopping you? Your comfort-zone? What is it that gives you so much pleasure that you are oblivious to everything else?
Are the free YouTube videos not working? If you could do it on your own, you would have! Maybe I am your messenger. Most people can't handle what they need to hear, they'd rather bury their heads in the sand. That's what an investment in great life coaching does for you, it creates your opening to hear your Truth. The truth is often uncomfortable.
You truly want to change? You've got to get in touch with your Truth. The coaching investment creates receptivity and keeps you there. Ask for help, receive my help and take responsibility
There are so many ways I can support you to make the most of the next ten years of your life, here are a few...
Start by making a list of all the things you have wanted to do in life but for whatever reason, you have never done. Let us scrutinize the inner workings of your life and support you to really get to know your authentic self, your beliefs, your strengths, and your weaknesses in ways you never have before. Let's use our coaching time to help you reveal the fears you have not been willing to face. Let's turn a midlife crisis into a midlife opportunity. Or maybe you should seek out places where your talents could benefit others and volunteer. Change in the world begins with you and how you interact with your familty, your community.
I will support you to restore balance in your life where necessary. You have a body, mind, feelings and a spirit. Now is the time to give each aspect of your life the attention it deserves. Maybe it is time to recommit to your significant love relationship, or find the self-lioving-power to leave.
Now is the time to tune into your essence, continue the discovery your true self, design your perfect future and confidently change for the better.
Be sure to work with an experienced coach.
"Fifty something - think you're past it - don't believe it. My series of fun sessions with Lee, culminated in me getting out my 'comfort zone' and becoming invincible. Prepare to visualize and you will be surprised at how you can make your world happen. Remember 'Nothing will work unless you do'. Thanks Lee – recommendations of the highest order". Business Owner, Banbury
I have worked with many fifty year olds, perhaps I can help you? My London based one-to-one life coaching, executive coaching and personal development programs work to help you explore your inner-being, aligning with your true values, life purpose and fullest potential. Reveal your true self in your personal life, foster success in your professional life and live in a state of authentic happiness... Today.
The follies which a man regrets most in his life are those which he didn't commit when he had the opportunity. (H Rowland)
I partner with intelligent people who want to excel at their passions, gifts and talents in a way that brings them success, life balance and happiness. I will travel to a London location of your choice or you can take advantage of my telecoaching.
If you could...
Get happy... Would you?
Make confident change for the better... Would you?
Learn who you really are... Would you?
Enjoy personalised face-to-face support to achieve all of the above... Would you?
What kind of a person in their fifties wouldn't? Ready...? Get in Touch Today.